NEW YORK CITY
Celebrating the varied accomplishments and endeavours of photographers from around the world, last night's 13th Annual Lucie Awards was a testament to the photography community's vibrancy and diverse talents.
The Lucie Awards is the premiere annual event honoring the greatest achievements in photography, as it pays tribute to the most outstanding figures in the field. Each year, the Lucie Advisory Board nominates deserving individuals from a range of categories. Once these nominations have been received, an honoree in each category is selected. The honorees are then presented with the Lucie statue during a spectacular evening at the Lucie Awards gala ceremony New York City.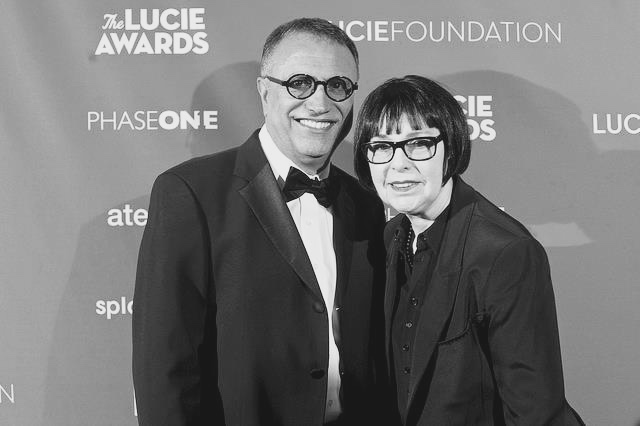 Hossein Farmani and Roxanne Lowit
The signature program of Lucie Foundation, the award ceremony aims to credit those standout characters in their respective fields – from technical achievement in lighting, to photojournalism, to fine art photography.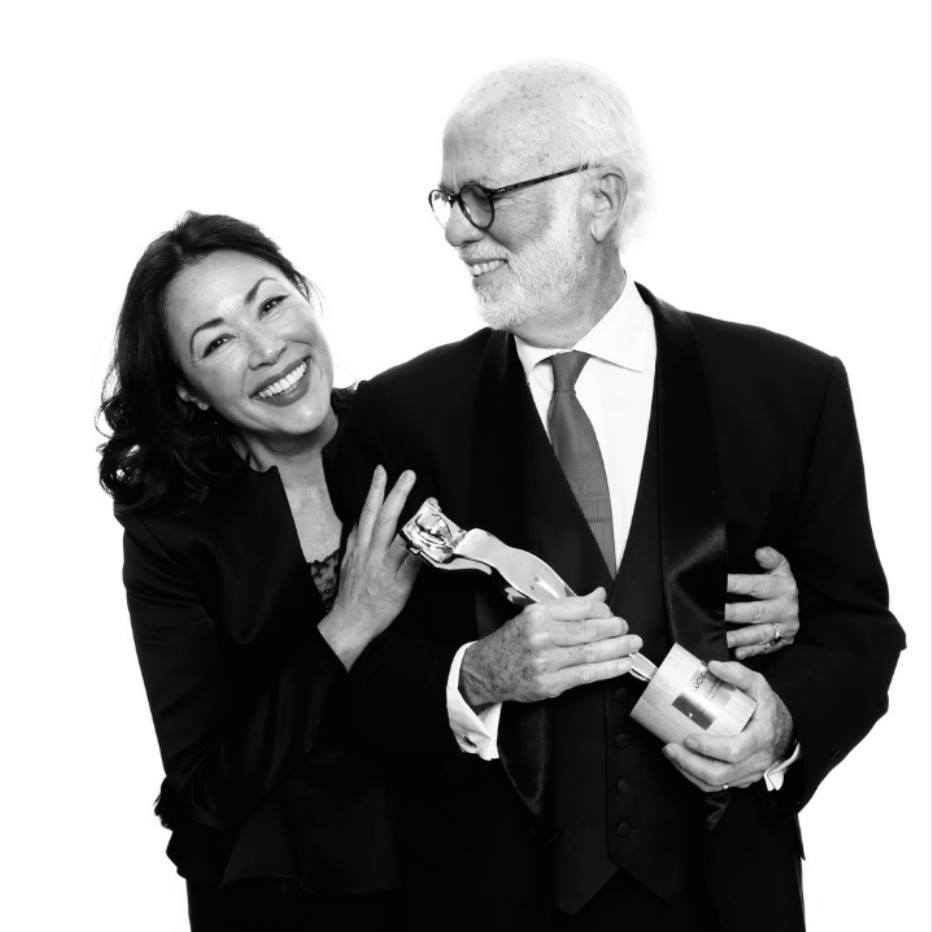 Ann Curry and David Hume Kennerly (photo cred: Robert Leslie)
Held at the landmark Carnegie Hall, this year's ceremony was hosted by Roxana Saberi and Tony Harris, with presenters including acclaimed photographer and past Lucie Award-winner, Steve McCurry and celebrated journalist and humanitarian, Ann Curry. Standout awards included: a Lifetime Achievement Award to George Tice, the award for Achievement in Photojournalism to David Hume Kennerly, Achievement in Fine Arts to Jerry Uelsemann, Achievement in Documentary to Danny Lyon, Achievement in Fashion to Roxanne Lowit, Achievement in Sports to Bart Silverman, Achievement in Music to Henry Diltz, and the Humanitarian Award going to Stephanie Sinclair.
"For the third year in a row, Zankel Hall at Carnegie Hall becomes home to the people behind some of the greatest photographic accomplishments. The community we cherish comes together once again, to honor and celebrate those outstanding photographers who are among the best in their fields," proudly explained Lucies founder, Hossein Farmani. "It is my great honour to have reached this 13 year milestone."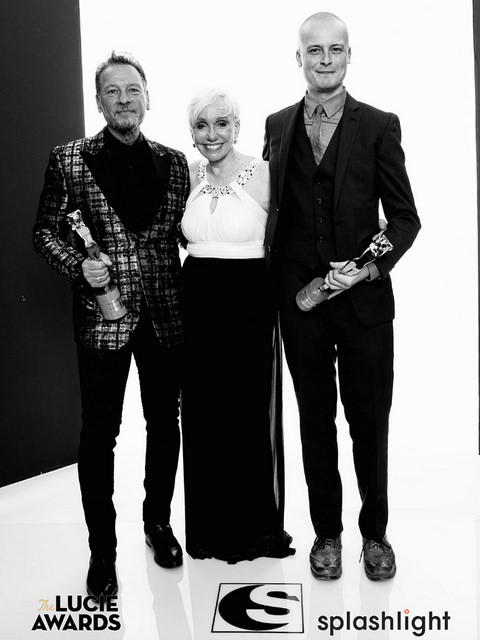 Sandro, Susan Baraz, and Ville Kansanen (photo cred: Robert Leslie)
INTERNATIONAL PHOTOGRAPHER OF THE YEAR was announced by Susan Baraz from AtEdge and presented to Sandro and Maxim Dondyuk (tied)
Claiming the Award and cash prize from among finalists:
Advertising Category: Fernando Decillis, USA
Architecture Category: Timothy Griffith, USA
Book Category: Howard Schatz, USA
Editorial Category: Maxim Dondyuk , Ukraine
Event Category: Christophe Viseux, France=
Fine Art Category: Sandro, USA
Nature Category: David Burdeny, Canada
People Category: Andrea Francolini, Australia
Special Category: Tom Chambers, USA
Sports Category: John Huet, USA
IPA Russia: George Mayer
IPA China: Shiyuan Gao
IPA Philippines: Paul Resurrection
In addition, the MOVING IMAGE PHOTOGRAPHER OF THE YEAR was presented by director/photographer, Indrani Pal-Chaudhuri to Kerry Payne Stailey, USA, who was awarded $2,500 and chosen from among finalists:
Martin Edström, Sweden
Tracey Shelton, Australia
Craig Cutler, USA
Ieva Austinskaite, UK
Kerry Payne Stailey, USA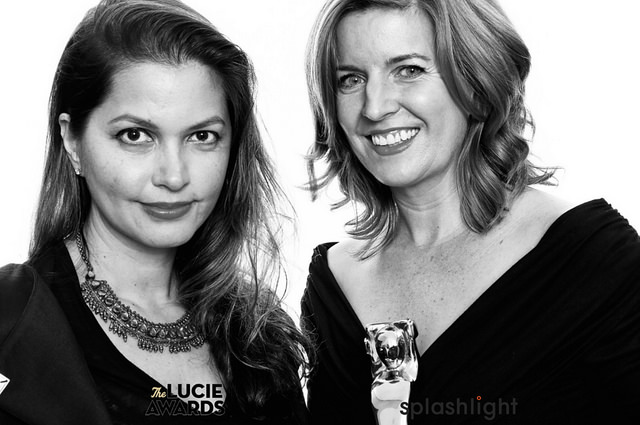 Indrani Pal-Chaudhuri and Kerry Payne Stailey (photo cred: Robert Leslie)
The IPA has awarded over $227,500 in prize money over the last 13 years. Winning work was displayed in the coveted annual Best of Show exhibition at Splashlight, during Lucie Weekend. Also conferred were awards in seven SUPPORT CATEGORIES:
Picture Editor of The Year Award went to Kathy Ryan, Director of Photography, New York Times Magazine, presented by Lauren Wendle, VP/Publisher Photo District News
Photography Magazine of the Year Award went to Exit Magazine, Spain, presented by photographer Enrico Dungca
Fashion Layout of the Year (awarded to magazine publications): to Harper's Bazaar for, Rihanna Swimming with Sharks, photographed by Norman Jean Roy, presented by Fashion and Beauty photographer Joseph Cartright
Book Publisher of the Year – Classic (awarded to publisher): Aperture for Tiny: Streetwise Revisited:
Photographs by Mary Ellen Mark, presented by photographer Linda Troeller
Book Publisher of the Year-Limited: (awarded to publisher): Ceiba for The Middle of Somewhere:Sam Harris, presented by photographer Linda Troeller
Curator/Exhibition of the Year: (awarded to curator): Amanda Maddox for Josef Koudelka:nNationality Doubtful nat the J. Paul Getty Museum, Los Angeles presented by 2003 Lucie Award winning photojournalist Steve McCurry
Print Advertising Campaign of the Year: (awarded to photographer): Colenso BBDO Auckland for New Zealand Breast Cancer for Skinfoods A Cream That Gives You Wrinkles. Client: New Zealand Breast Cancer Foundation. Photographed by Karsten Thormaehlen, presented by New York portrait photographer James Salzano
For more info and the full list of deserving Lucie Award recipients, please visit the Lucie website: http://www.lucies.org.