Based in Brooklyn, NY, photographer Marisha Camp expertly reveals the weird and the wonderful in the seemingly banal and ordinary, as she captures her fellow Americans in the intimacy of their respective environments.  Her use of flash, high contrast, and exaggerated colours serve to emphasize the piercing expressions and quirky details she elucidates in her subjects, with an underlying commentary on the complexity of their backgrounds and ethoses. While she photographs each with dignity, with no hints of patronization, their position, either socio-economically or as they sit on society's margins, is thoughtfully highlighted, inviting a more critical examination from the viewer.
Coney Island beach-goers, Brooklyn's Hasidic Jews, beauty pageant girls, Mid-Western meth addicts, young football players, New York drag queens ⎯ her work offers a fascinating and honest look at the patchwork of characters who make up the contemporary United States.
District-W caught up with her to find out more about her encounters with these characters and how they've shaped her career and life as a photographer.
District-W: Have you always been interested in photographing people? What has led to you pursuing this interest professionally?
Marisha: I can describe my work in two words: Arbus light.  I would love to transcend this, but I haven't yet, and I don't know that I ever will.  I love Arbus, imagine we'd have been the best of friends. But my childhood heroes, the people who defined my ethos, were Morrissey and Springsteen.  Morrissey created a persona around being uncomfortable in your own skin, around being lonely and unlovable, around inchoate longings that had evolved into a certain homoerotic yearning for boxers and gangsters by the time I was old enough to be the sensitive, brooding kid who couldn't get enough.  Springsteen wrote about being profoundly trapped and living for brief moments of transcendence, which is really the heart of rock and roll.  Now I wasn't going to be a rock star, and writing is very difficult for me, so I poured this energy ⎯ this love ⎯ into photographs, into a years-long series of quasi-self-portraits.
I was so shy before I picked up a camera; somehow the drive to make pictures forced me to power through, gave me a reason to meet people and ask questions, to forget myself and my crippling self loathing because everything that mattered existed outside of that.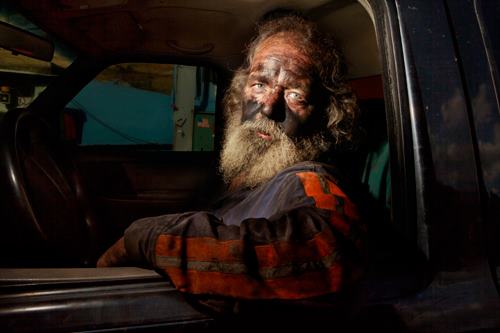 District-W: What draws you to photograph particular subjects? Do you actively seek out certain communities that interest you? Or do you find them along your travels?
Marisha: When I started shooting "The Beach," I would arrive an hour or two before 'good light' and sit on the sand and chain smoke, one cigarette after another, my hands shaking, on the verge of throwing up. I was so terrified to approach people, to approach strangers, to ask them to pose with what I imagined to be a sort of profound vulnerability in a public space where everyone shared the burden except for this fully-clothed character with a camera.  I emotionally invest in this all or nothing way.  A "no" was a cause to mourn, something beautiful that was lost. I'm very intense when I shoot.  But, at the same time, I was really at this point of having nothing left. I was sleeping on a friend's futon, too broke to eat every day, my checking account drained by the, erm, 'bad relationship' I'd just escaped, and making these pictures really saved me in a way.  As time went on and I began to fall in love with the images, I started to think of the work in terms of collaborating with strangers to make something awesome, something we could both believe in, and this took away most of the fear.  I don't push people who aren't interested; it really takes the two or three or four of us to make a good portrait, and there isn't a point in trying to work with people who would rather not.  I've wrestled with hating how I look to a crippling degree, so I understand and respect a polite "no."  In any group, there's usually one person who adamantly does not want to be photographed, and that person gets to hold the flash; I really do try get everyone engaged and involved in a way that's comfortable and try to engender a positive experience.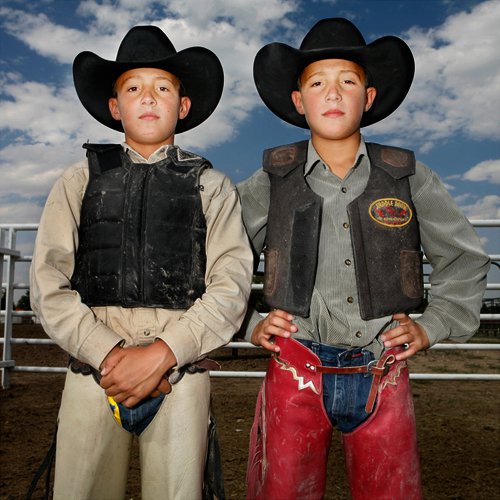 District-W: Do you often find people are willing and open to having their portrait taken? Or is there some convincing to be done on your part?
Marisha: I have never had the sort of money where I could read about something and say, "I'm going to go out and shoot that."  I've stumbled into everything I've ever shot, one way or another.  As I get older, I would love to have a process where I have something to say and deliberately seek out a way to express it visually, but I just stumble through life.  Of course some things you stumble into are more compelling than others;
99% of me thinks that people are just people, and the other 1% is realistic about how 'what' shapes 'who.'  Of course I visually fetishize certain things; it's very human, but that can't be all there is.  When you play it out without a camera, it's very empty and detached unless you connect on a human level, and a camera doesn't change that.
I could fill a very boring book with all of the truly awful decisions I've made, of everything I've squandered. I feel the weight of this all the time, and the only silver lining is a heightened sense of empathy. One way or another, I'm always trying to give voice to this.
When you've lived a little further out on the economic margins of a Springsteen song, where joyriding is too taxing to the car you barely hold together and gas is more money you don't have, you want to make images that say, "these are people who are just as deserving of a photo as anyone."  And, more importantly, "we have more in common than not."
I've lived in a Hasidic community for six years, although I was raised to distrust organized religion. This was something foreign and a little strange that other people did.  We could study it in a historical or anthropological context, but somehow we knew better.  And then I had a chance encounter on the street and it changed my life profoundly, although I'm not sure I changed all that much. I'm blessed to exist more or less as myself in the midst of this other culture that I literally learned from scratch.  It's more profound than code switching. I can and do flip between two entirely different hashkafas or world views.  And this has lent everything so many shades of grey. I understand how people can be kind and decent and good, and yet abide by beliefs that are so wholly opposed to something deep in the core of my being, and we can be close and I can love them.  Any photograph I take is only going to scratch the surface.  Had I decided to make Hasidic pictures and come here to shoot for a few weeks, I might have been happy with portraits of 'the other,' although probably not because 'othering,' while inevitable, is weird and distasteful.  After six years, I'm frozen in a sea of nuance.  My idiosyncratic journey has all sorts of tension and conflict and wonderful anecdotes, but how much of that can you curate down without being reductive and unfair?
District-W: I notice that you often photograph two people together, sometimes couples or siblings, or twins. It makes for an interesting composition, but is there another reason behind this? A comment on a lack of individuality perhaps? I can see a DH Lawrence, "Star Equalibrium" quality too, not that they're not individuals but you see them in relation to each other.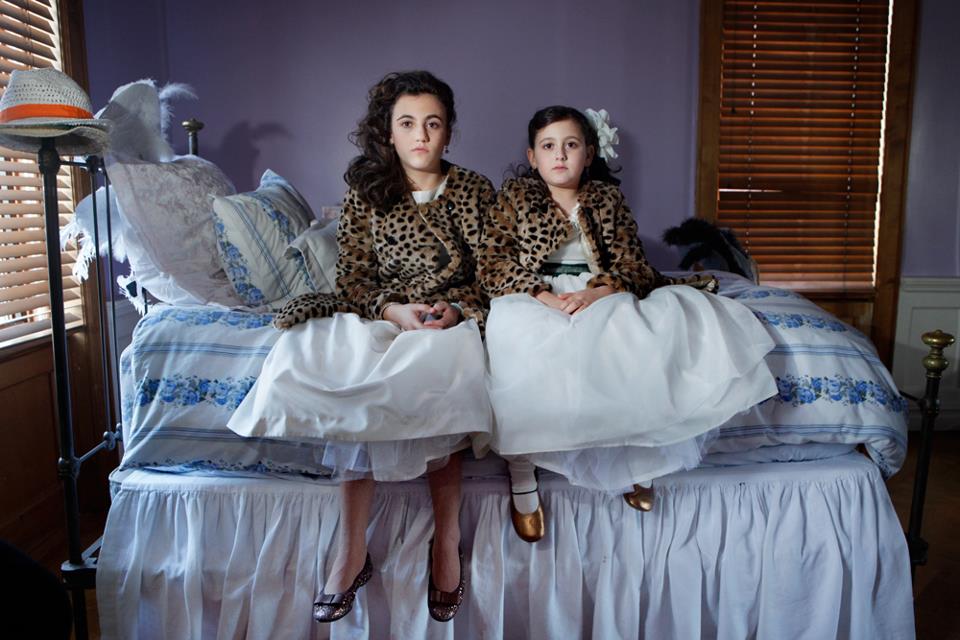 Marisha: Yes, I didn't invent this!  But I imagine it means something different to each photographer. We all struggle with being essentially alone, you sort of yearn for a twin, and with the push-pull of codependence and autonomy in close relationships.
District-W: I'd imagine that some communities, for varied reasons (religious, legal), are quite discreet and would be adverse to letting an outsider in, let alone take their photo. How do you gain their trust and not come across as being invasive of their privacy?
Marisha: I'm not sure how I engender trust.  I don't always.  But I'm painfully sincere and I'm an open book ⎯ my process is more transparent than anyone would like, and I keep my heart and flaws firmly on my sleeve.   I'm very upfront about what I want to shoot and why from the jump.  I give people credit for having been aware of whether or not they'd like to be photographed and how they like to present themselves to the world long before they meet me.  I discuss representational issues with the people I photograph ⎯ a lot.  We live in a media-saturated world and we're all part of this dialogue now.
I've built up an archive of images that can never see the light of day because I value keeping my word and not violating such a gift of trust über alles. The subjects run the gamut from very Chassidish ladies to WWII re-enactors in full-on 1940s German uniforms, although those extremes are visual and not the people themselves.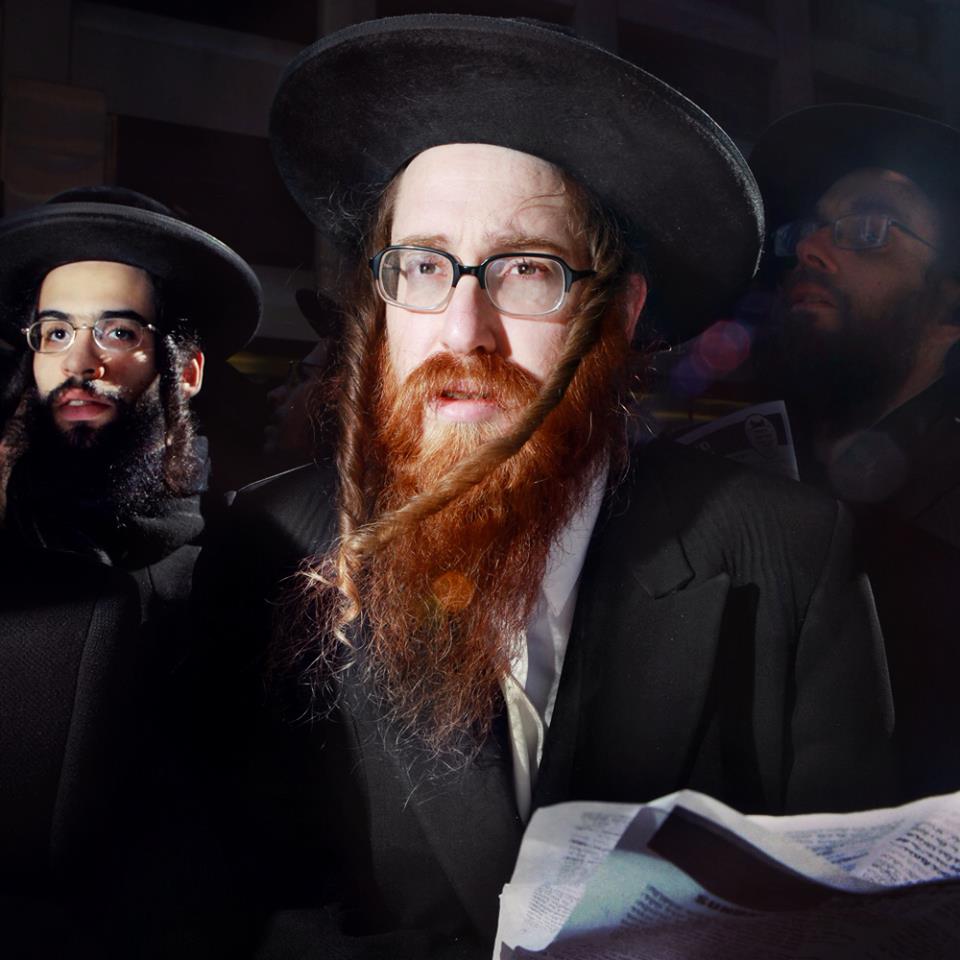 District-W: What series/subject has thus far been most interesting for you? What series/subject has been most challenging for you?
Marisha: I don't want to say that one subculture is more difficult or more or less welcoming than another.  There is this concept of making a 'chillul Hashem,' literally a desecration of God's name, but colloquially it means doing something to make the whole group look bad to outsiders, and I'm very conscious of this.  I've been on the receiving end of physical violence here and there for all sorts of reasons, at which point there really isn't an infallible underlying logic anymore.  And the violent individuals have never spoken for everyone.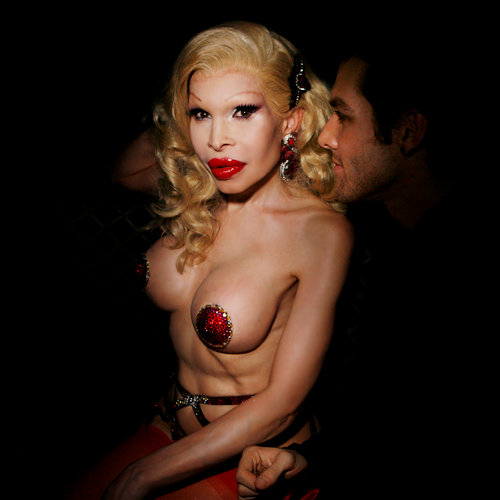 Interview to be continued…