---
Anantara Vacation Club, Asia's leading luxury shared ownership concept for discerning travelers, is pleased to announce its unique offerings to accommodate the growing market of multigenerational family travel.  With a variety of beautiful destinations, thoughtful and accessible accommodations, one-of-a-kind cultural experiences, and an array of recreational activities, Anantara Vacation Club is ideally suited for multigenerational families.
According to the Family Travel Association, more than one-third of the leisure travel market is multigenerational – families with children, parents, grandparents and more all vacationing together.  These multigenerational groups are looking for interesting destinations, accessible accommodations and memorable shared experiences with appeal across generations.
"The most treasured memories are those with our families, and Anantara Vacation Club is perfectly designed to accommodate multigenerational groups," said Martin Tolan, Chief Operating Officer of Anantara Vacation Club.  "Our resorts feature accessible rooms and amenities for our older guests along with interesting cultural and recreational activities with appeal across the generations.   Club Owners can rest easy knowing that any one of our Anantara Vacation Club destinations can easily accommodate their families."
Anantara Vacation Club is a luxury shared holiday ownership concept with opportunities for five-star vacations in Asia and beyond.  Anantara Vacation Club offers the flexibility of destinations and the certainty of luxury brand quality at destinations.  Below are some of the multigenerational activities and accommodations that can be found at Anantara Vacation Club's signature resorts in Phuket, Bali and Sanya.
Anantara Vacation Club Phuket Mai Khao
Located in northwest Phuket on the edge of Sirinath National Park adjacent to Mai Khao Beach, the resort offers 70 luxurious suites and 30 spacious pool villas along with a swim-up lagoon pool, kids club, state-of-the-art fitness centre and an assortment of restaurants and bars. Multigenerational features include:
Spacious accommodations with room layouts for 4 – 8 guests
Complimentary bicycles
Full kitchens for making family meals together
At the nearby Mai Khao Marine Turtle Shelter & Education Center, guests can feed the resident sea turtles and learn how to support and protect the marine turtles of Mai Khao
Dive-in movies at the pool
Outdoor family games, such as ping-pong, foosball, darts and favorite board games
Batik painting classes
Anantara's Spice Spoons cooking school, allowing guests to delve into exotic culinary cultures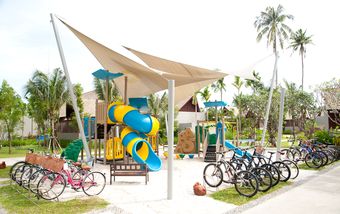 Anantara Vacation Club Bali Seminyak
Anantara Vacation Club Bali, Seminyak offers Club Owners a home away from home with 18 completely refurbished private pool villas along with redesigned amenities and facilities that are inspired by the island's rich artistic, spiritual and rural traditions.  Multigenerational features include:
Spacious, private villas with accommodations for up to 6 guests
A custom, family-style, Chef Fusion BBQ featuring Balinese favorites and Western classics is served at the villa
Complimentary bicycles
Fully accessible public areas to accommodate guests in wheelchairs
Villa pools can be modified with extra step to assist guests
Anantara Vacation Club Sanya
Located on China's Hainan Island with spacious two-bedroom suites featuring large private balconies offering sweeping ocean and mountain views, Club Owners have full privileges at the adjacent Anantara Sanya Resort & Spa.  Multigenerational features include:
Spacious, two-bedroom suites to accommodate up to six guests
Full kitchens for making family meals together
Full use of adjacent Anantara Sanya Resort & Spa's Children's Club
Cultural excursions to nearby attractions, including Li jungle community
Swimming pool and children's playground
# # #
About Anantara Vacation Club
Launched in 2010, Anantara Vacation Club is a luxury Shared Holiday Ownership concept offering Club Owners stays in destinations across Asia and beyond with a flexible points system.
Anantara Vacation Club is part of Minor Hotel Group (MHG), a hotel owner, operator and investor, currently with a portfolio of 126 hotels and serviced suites in operation under the Anantara, AVANI, Per AQUUM, Oaks, Tivoli, Elewana, Marriott, Four Seasons, St. Regis and Minor International brands. Today MHG operates in 22 countries across Asia Pacific, the Middle East, Africa, the Indian Ocean, Europe and South America. Minor Hotel Group's parent company, Minor International (MINT) is a global company focused on restaurants, hospitality and retail trading.
The Club Resort Collection at Anantara Vacation Club includes a Signature Club Resort in Phuket and luxury private villas on Koh Samui, Thailand and Bali, Indonesia; plus suites in Queenstown, New Zealand; Bangkok, Thailand; and Sanya, China.  Over the next five years, the Club will add up to 10 additional resorts.  In addition to the growing collection of Anantara Vacation Club Resorts, Club Points Owners enjoy an extended host of travel opportunities through the Club Escapes Programme, which provides Club Privileges access to experience luxurious properties at select Anantara Hotels & Resorts throughout Asia and the Middle East, Oaks Hotels & Resorts across Australia and New Zealand, and AVANI Hotels & Resorts in Asia.  A newly established affiliation with Interval International® opens up access to over 2,900 resorts worldwide to Club Owners.  Preview centres are found in Bali, Koh Samui, Phuket and Sanya.
For more information, please visitwww.minorinternational.com andwww.anantaravacationclub.com, or follow the company's blog or social media channels on Facebook, Twitter, Pinterest,Instagram or Weibo.