Alliance Française Bangkok proudly presents an exhibition and debate on stage "PARIS-BANGKOK PERSPECTIVE: INNOVATIVE PROJECTS FOR INCLUSIVE CITIES". The event during which Paris and Bangkok's urban perspectives will be compared will consist of three components:
Photo exhibition featuring urban development projects designed to improve quality of life and make a city accessible to all;
Debate on stage about the urban, social and environmental challenges facing both cities;
Scientific conference on the two cities' new urban dynamics.
In this special occasion, VAL, Valérie Goutard, French sculptor, will present her art pieces at Alliance Française Bangkok. The sculptures are inspired by the big city as Bangkok. After the exhibition, Ville Fantastique II, one of the art pieces in her collection, will be given to Bangkok as a special present on 28th January 2016.  And it will be presented on the skywalk Chong Nonsri BTS station.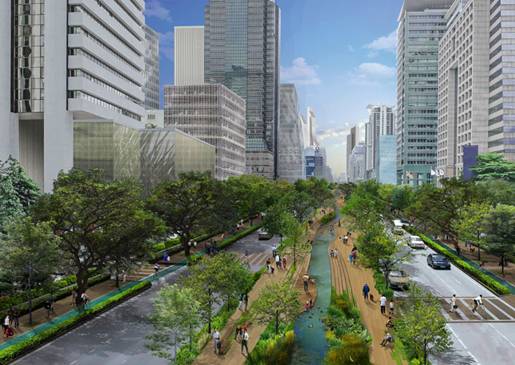 Exhibition "Paris-Bangkok Perspective: Innovative Projects for Inclusive Cities"
Date: From 12th to 26th November, 2015 (Monday to Friday: 8.30 AM – 7.00 PM. / Saturday and Sunday: 8.30 AM – 4.30 PM)
The opening: Thursday 26th November, 2015
Venue: Gallery of Alliance Française Bangkok, 179 Thanon Witthayu
Free admission
Debate on stage "Paris-Bangkok Perspective: Innovative Projects for Inclusive Cities"
date: Thursday 26th November at 7.30 PM
Venue: Auditorium of Alliance Française Bangkok
Free admission
Sculpture Exhibition by VAL
Date: From 12th November through 12th December 2015 (Monday to Friday: 8.30 AM – 7.00 PM. / Saturday and Sunday: 8.30 AM – 4.30 PM)
The Opening: Thursday 26th November, 2015
Venue: Alliance Française Bangkok, 179 Thanon Witthayu
Free admission
Information: 02 670 42 22 or culture@afthailande.org
Link for download photos of VAL's sculpture:  https://www.dropbox.com/sh/fv4finy9s7z92gl/AABZn73KKCPJVMiqfeq5cjOSa?dl=0
Link for download photos of Grand Paris-Grand Bangkok: https://www.dropbox.com/sh/agmphephuxpznbj/AAAhAAiNQdr9GPWNFJg1-LZQa?dl=0&s=so