Sathorn 11 Art Space is a Social Enterprise situated in Sathorn Soi 11 in the new art district. The gallery is created by an American Marc Greene – Art Philanthropist and Chaiyaporn "Mike" Boonmahanark – Curator / Director.
The gallery concept is to find local artistic talent from around Thailand and give them a creative space to refine their craft and a place to display their work. The gallery provides visitors and art collectors with a fresh look into the new Bangkok art scene and makes a social contribution to the creative talent from all across Thailand. Sathorn 11 is not your typical standard art gallery because visitors can visit and see how these artists created their work.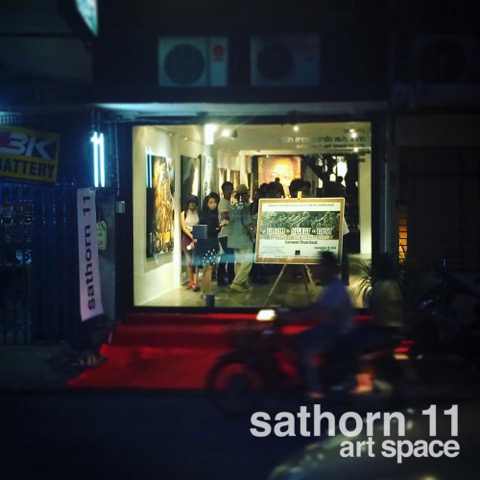 First Solo Resident Exhibition
Sarawut Thaichuai
BLOOD, SWEAT, & RUST
September 19, 2015
Blood, Sweat, and Rust: the portrait of Thais working class is Sarawut Thaichuai first limited collection series. Sarawut is a young Bangkok artist that uses empathy to connect with his chosen subject's emotion. This connection allows Sarawut to create his unique style of expressionistic work of art. His Avant Garde attitude has produced a new style of painting that he coined "Living Art". Just like the working class subject in his work, the actual painting itself has a life span of 35 to 50 years, as times passes, the corrosive rust in which he mixes in his delivery eats away the painting and causing it to crack and flake. The self-destructiveness of his work is a reflection of the society that destroys the working class lives. Sarawut do not wish his painting to last forever, but to die away as his subject will . . . and be forgotten by society that these workers help built. The wonderful process of seeing this "living art" painting slowly "dies" is a new twist to the standard of what art should be.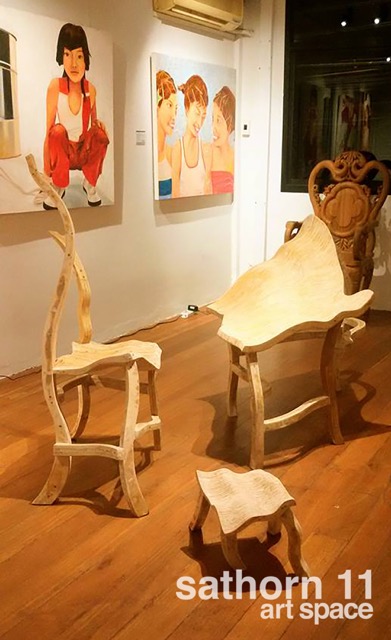 "Why should my painting last forever… if the subject in my painting are slowly dying of oppression and depression? . . . . My art will die just like my subject will." – Sarawut
The heavy brush stroke of thick oil paint mixed with toxic elements and rust that is painted on canvas slowly eats away the canvas and the oil pigment. The long natural process of living art will change the painting through the passage of time.
"As my paintings aged, the rust will eat and chip away the pigments…. And the final result is a wonderful cracking leather-like dead canvas…." – Sarawut
The process of creating this "Living Art" series is toxic to the artist's health, as a result Sarawat cannot continue with this series any longer. There are 12 pieces (oil/mixed medium) to this limited collection series and a must see.
Sathorn 11 Art Space
Address: 404 Sathorn soi 11 Bangkok 10120
Website: www.sathorn11.com
Facebook: www.facebook.com/sathorn11artspace
Blood, Sweat, and Rust exhibition will run from September 19 to October 20th