cover photo of Robert Fry in his London studio by Alex Bramall, 2015©
BERLIN, May 1, 2015
Recently selected by Thames & Hudson for inclusion in their exhibition and book, 100 Painters of Tomorrow, British painter Robert Fry's latest exhibition, "Partners," lives up to the hype. The solo show, which runs from April 25th – June 20th at Galerie Kornfeld in Berlin, boasts an impressive selection of 22 new works, including 11 large-scale paintings, and 11 etchings.
Tessellated profiles and geometric shapes, repeating numbers and words, sexualized human forms, all thoughtfully balanced with negative spaces of solid colour, demonstrate a matured understanding of composition and materials; this latest body of work shows a marked progression in style, although the tension between the abstract and figurative, brought to life by his signature colour palette of deep purples, remain as prominent elements in the new series.
I sat down with the artist at 68Projects at Berlin Gallery Weekend to discuss this latest body of work and how he manages the creative process: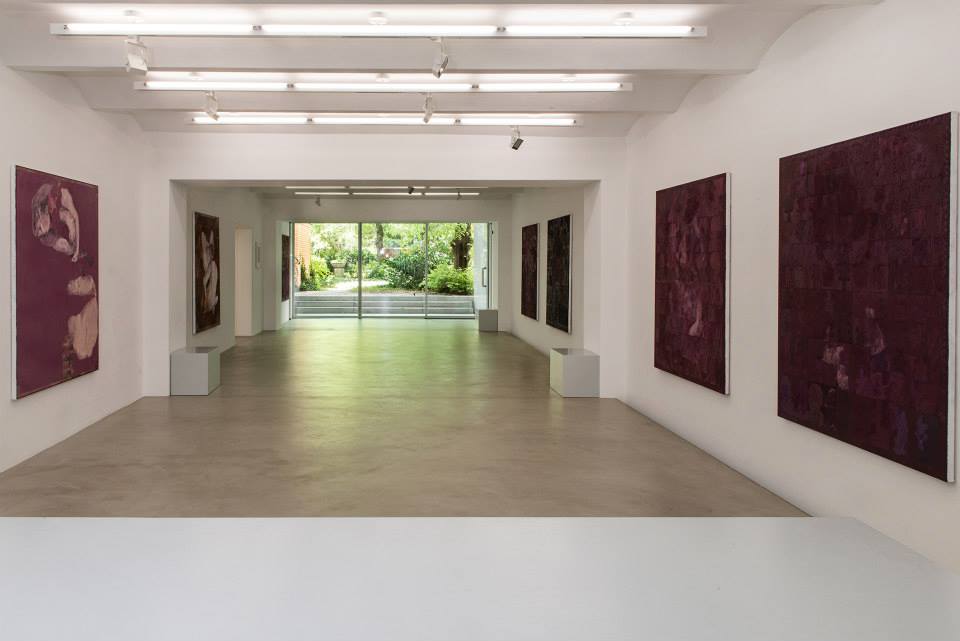 District-W: There's a lot of pressure on artists to deliver a new body of work that surpasses their previous show in scope and execution. Does that pressure get to you? How do you manage those expectations? And how do you approach building upon previous work, maintaining your style/aesthetic yet creating something new/original?
Robert: I think it is an important question that applies to any creative practice. Creative work will always be derivative of previous work and that's inescapable. Discovery is very important in creative work; I believe you need to take risks and challenge the parameters of your practice. I think David Hockney is a good example of an artist who has produced work in a huge variety of different media. I think this demonstrates an ability to move outside of your comfort zone and by doing so create work, which moves into a new territory and challenges how you can communicate your ideas as an artist.
On the other hand, there have been artists like Mark Rothko, who are able to use the consistency, repetition and confines of the materials they use to make minor shifts in, for example color or scale, with dramatic results. There are of course many practical limitations within professional practice.
District-W: It's said that there are no more original ideas, only innovations or adaptations of previous work. Do you believe this?
Robert: No.
The act of painting is going to be informed by all the examples of painting that were before it. This is not to say that within the enormity of painting originality and new ideas cannot emerge. Painting can be at its best a language in itsself and its worst a pastiche of 'previous work.'
There can be elements within a painting which can never be explained and understood in language and moreover do not need to be. Why should a painting be deconstructed in the language of painting to be translated and reconstructed in language?
District-W: How do art history and/or your contemporaries influence your work? Did they influence this show in particular?
Robert: I think the abstract expressionists have influenced my work along with other artists . William De Kooning, Robert Motherwell, and Mark Rothko have influenced how I think about painting particularly at the beginning of my career. I don't feel a part of a movement in London or a group of artists, In fact I feel quite isolated in my practice. I think this also stems from my where I studied within a fine art degree of 45 students there where only two painters. Painting was the last medium students were pursuing or where encouraged to pursue.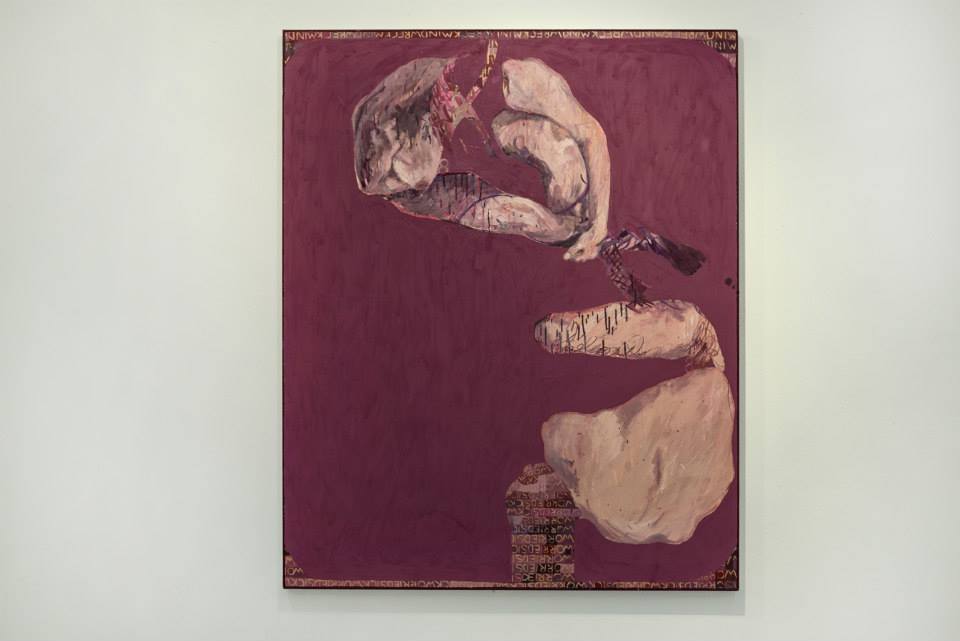 District-W: Can you explain the various media you work with? What about working with these materials allows you to best convey your message?
Robert: I understand that the mixed media composition of the paintings is an engagement with the versatility of painting as a practice. How a painting is made, what the painting is made of, creates meaning with equal impact as the subject or subjects chosen by the artist.  For example, within the work Partners Study 3, it incorporates acrylic, oil, enamel, oil pastel and felt tip pen.
District-W: You don't seem to shy away from a large canvas, yet your work often has elements that are quite finely detailed (such as text). Have you always felt comfortable creating such large-scale pieces? Or do you prefer working on the minutia?
Robert: I think, for me, the main reason I was drawn to work on a large-scale is that I wanted the figures to be life-size within the paintings; so when you look at, for example, the painting Red 1, you're looking at a figure on the same scale as yourself, the viewer. The detailed text incorporated into the Partner studies attempts to allude to a subtext outside of the composition of the two figures in some form of partnership or relationship.
District-W: I often admire artists who use strong colours well – something that can easily go wrong for a painter. Does this come easily to you, or have you become bolder over time?
Robert: The paintings I produced in 2013 and 2014 had become quite monochromatic. Within this new series, I have made quite a departure from this and the palette has become much more diverse.
District-W: Creativity isn't something that can be turned on at will. How do you mange creative blocks? What do you do to get yourself out of a rut?
Robert: I think, for me, the main reason I was drawn to work on a large-scale is that I wanted the figures to be life-size within the paintings; so when you look at for example the painting Red 1 you're looking at a figure on the same scale as yourself/ the viewer.
The detailed text incorporated into the Partner studies attempts to allude to a subtext outside of the composition of the two figures in some form of partnership.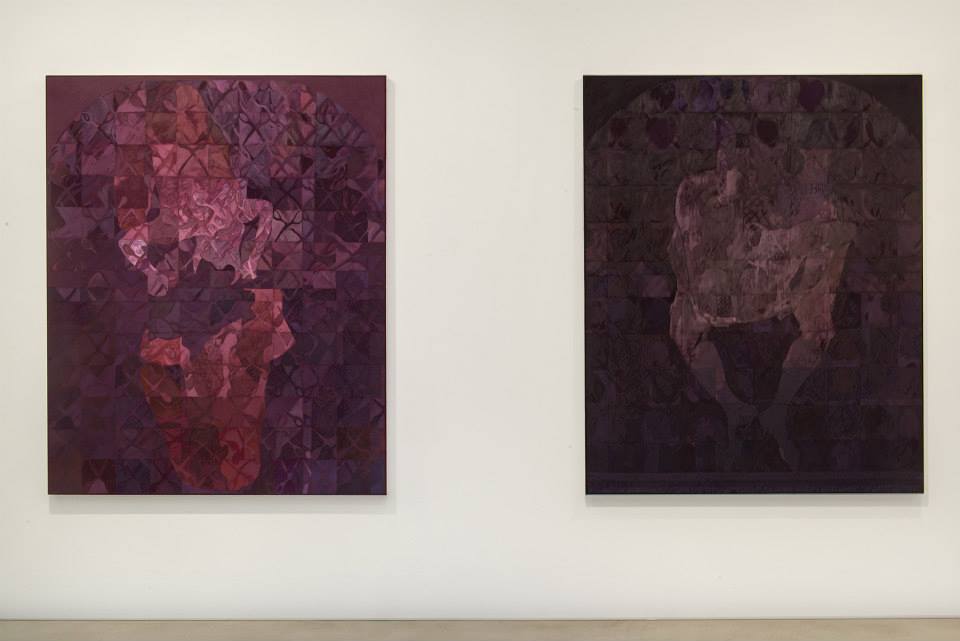 District-W: Can you tell me more about which piece you consider a standout piece from the show? Why so? Can you elaborate on this piece specifically?
Robert: Partners Study 5.
To me, it represents a pivotal point within the series, encompassing an application of paint reminiscent of the early Drawing Room studies, yet also coupled with the more Monochromatic paintings I produced in the last few years. The merging of these two vastly different styles I think is interesting.
District-W: There's always been a partnership of sorts between the artist and patron, between art and finance. How do you feel about this relationship and how do you handle/balance being true to your creative self while relying on those creations to support yourself financially?
Robert:  I think having a good gallery / artist relationship is very important. As an artist I believe having that support and structure through a strong collaboration is vital. I've worked in the past when that's been absent and it's difficult.
I think the exhibition Partners at Gallery Kornfeld is testament to the strength of a good relationship between artist and gallery.
District-W: How much of your work is autobiographical? Artwork is always personal to a degree, but are you more inclined to be introspective or reflective of your environment or of others'?
Robert: I think some of the themes I try to explore in the paintings and etchings are partially drawn from my own experiences and therefore making them partially autobiographical. I have channeled elements of my own experience into the work of course.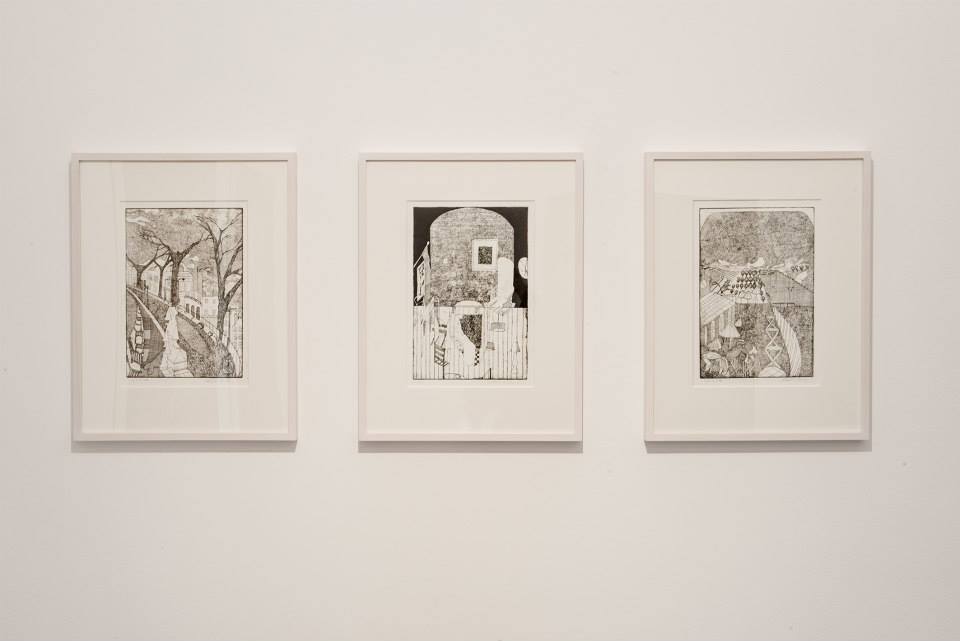 District-W: Contemporary technology (advent of internet, social media, etc.) has led us to be cognizant of public and private spheres and continued encroachment on the latter by the former. Does this concern you with regards to your work and how you're seen as a professional artist?
Robert: As we have discussed the conditions in which an artist is able to produce work is a very complex question. I do believe that certainly for me isolation can be affective to productivity in painting. When you are working in this way its difficult to comprehend that the paintings will eventually be in a public exhibition and in due course private/public collections. As a painter it is difficult to adjust to this process and to prepare for it.
District-W: Everyone's a critic. Critique is a vital part of being an artist and developing personal style/aesthetic, but it can also be quite difficult to accept. Have you learned to deal with it well or is it a necessary evil you're struggling with?
Robert: It is an inherent part of professional practice and ultimately you have to accept it.
District-W: Future plans: Has this show helped you to envisage your next body of work? Do you have any future plans or concepts you'd like to share with us?
Robert: I'll be in a group exhibition at S2 gallery, which is a contemporary division of Sotheby's in London, this show will open in November 2015.
In my practice there's always one painting in a series, which often can be a starting point for a new body of work. In this instance, Partners Study 11, the last in the current series represents for me the beginning in a new series.
To view the show, for sales or other inquiries, please see www.galeriekornfeld.com for more details.