District-W had the chance to speak to Jacobo Astray, private chef, event chef and food consultant extraordinaire. Influenced by elBulli, Spain´s legendary Michelin 3-star restaurant, Jacobo Astray's deeply personal cooking masterfully hand-picks and elegantly fuses ingredients to come together on the plate as the ultimate culinary art experience in town: Gula Bangkok.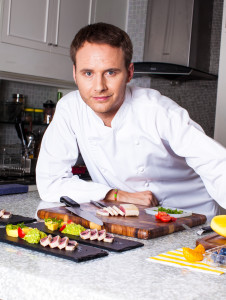 DW: When did you develop interest in cooking? 
JA: I was 19 years old, and I decided to move out from my parents' home. After a few months I started to miss my mom´s cooking but I was already in another country so I had to ask her and started copying her recipes.
DW: What does food symbolize to you? Do you believe people should live to eat or eat to live?
JA: Eating shouldn´t be only a basic need… Because we must have food at least 3 times a day every day of our lives, why not try to make it also pleasant and enjoyable, apart from fulfilling and nutritious?
DW: When did you decide you wanted to become a chef ? What made you do this? 
JA: When I was 19 decided to quit my studies and my only choice by that time was to find a job as a waiter, then after a couple of months watching chefs working in the kitchen I realized that my place was inside a kitchen. Then I decided to go back to school to study culinary arts until now. Since then I have never stopped learning!
DW: What advice would you give to aspiring chefs? 
JA: I guess as all chefs, the beginning is a bit hard, you have to sacrifice many aspects in your normal daily life, you will have to work long hours, spend many of those hours doing hard jobs (peeling potatoes, chopping onions, etc.) Your free time will be reduced daily, but if you really enjoy the art of cooking, I would say just keep going and try to improve your cooking skills every day. And one day you will find out that you are ready to choose your next stop.
DW: Where did you train to become a chef?
JA: Since I finished my studies at the culinary school, I took every job I had as a training period, trying to work in different types of restaurants to improve my skills and get more experience. But by far my best training experience was at elBulli Restaurant (3 Michelin stars) alongside Ferrán Adriá where I initially spent 6 months working at the highest cooking level possible, working hand-in-hand with some of the best chefs in the world and handling simply the best produce in the market. After a tough but very enlightening period of training there I got offered the opportunity to be part of the staff team for another 2 seasons as Chef de Partie.
DW: What culinary influences have shaped your style as a chef ?
JA: Obviously Spanish culinary culture and the Mediterranean gastronomy really influence the way I approach cooking. Other than that, during the period of time I spent working at elBulli, I have learnt the most about modern cooking techniques and types of cooking that have influenced me as a chef. And after that, of course, the last few years living and working in Thailand and travelling around Asia, where I have had the privilege to discover another way of understanding food (new products, new flavours, new techniques…) and, in general, a new culinary culture (that's Asian cuisine).
DW: What is your signature dish?
JA: To be honest with you, I do not have any singular signature dish. In fact I truly believe a chef should be more than just one single dish. Fresh products, modern food techniques and good flavour / taste… those are my signature ingredients.
DW: What type of cuisine do you most enjoy cooking? 
JA: I really enjoy cooking seasonal local products using modern culinary techniques. Also I like playing around with different types of cuisine and mixing recipes. If possible, all cooked for a limited number of customers, as I do at Gula Bangkok as a Private Chef, so I can control up close all the cooking process.
DW: What skills are needed to become a chef?
JA: Patience, passion, commitment and hard work. And a little bit of good taste I guess…
DW: What sets you apart from other chefs ? 
JA: I am still slim… Jokes apart, obviously I think the fact that I had the opportunity to work in one of the best restaurant in the world helps a lot to start shaping a career as a chef, but the most important part, the key in my opinion is to try to keep improving all the time at any job and set short goals. And if you are consistent you will make the difference sooner rather than later.
DW: In your opinion, which cuisine is the hardest to perfect? 
JA: All cuisines are hard to perfect, there is always something to be improved, and as a chef, you must keep it in mind all the time.
DW: If you had to choose, in your opinion what is more important: aesthetically pleasing food or good tasting food? 
JA: Good Tasting Food. No doubt.
Thank you for sharing with us Jacobo!