There's no shortage of Indian restaurants in Bangkok. Just walk down Sukhumvit road and you come across hundreds of them, either located in a hole in a wall or snuggled in a luxurious hotel. Prices range accordingly too.
There is one that stands out in its own right. Ever since The Great Kabab Factory made its presence in Bangkok, it has revolutionized the way people perceive Indian dining.
Nestled within Sukhumvit soi 2 in the lobby of the Majestic Grande Hotel, this sophisticated but unpretentious restaurant serves over 450 types of mouth-watering kababs, a selection of curries, breads, biryanis and desserts – all part of an extended, all you can eat, 3-course food experience.
The Food Journey
As you sit down and marvel at the regal design of the restaurant, a server comes to you in a factory-style jumpsuit and asks which set menu you would like – vegetarian or non-vegetarian. There is no a-la carte menu.
First comes a serving of appetizers (cucumbers, tomatoes and watermelon with a drizzle of strawberry sauce). As you pick up the last piece of salad from your plate, the waiters bring in an assortment of kababs, which change daily. Each comes with an explanation from the staff about its ingredients and which chutney (sauce) pairs the best with it.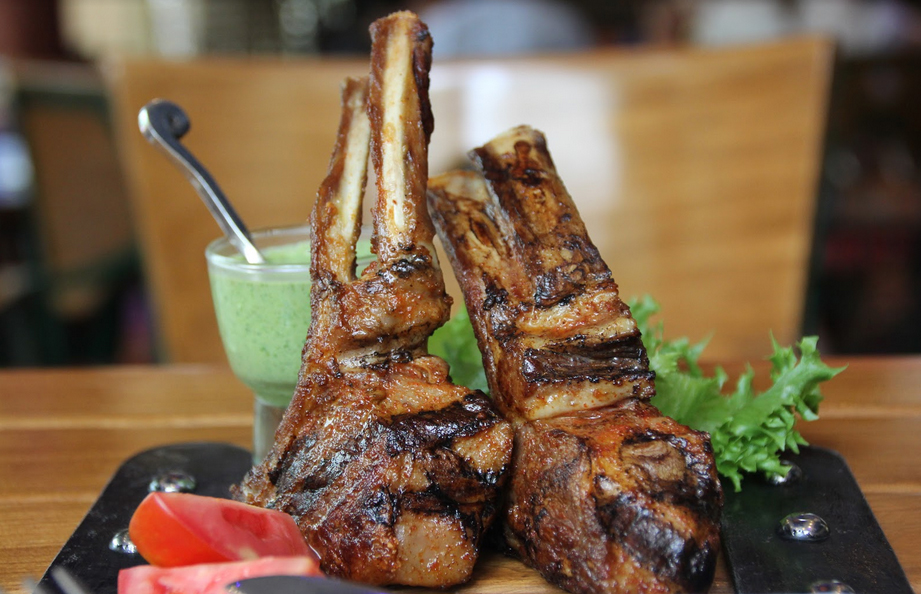 Burrah Kabab (lamb chop)
A must-try of the bunch (served every night) is their signature kabab – the Galouti Kabab, which is a finely minced lamb meat flavored with herbs and spices. History has it that Nawab Asaf-ud-Daula had lost all his teeth and wanted a kabab that he could eat. So his court chefs made him a new kabab that would use the finest lamb cuts. At The Great Kabab Factory, the lamb is minced at least 8 times. This gives the Galouti Kabab, a foie-gras texture and it simply melts in your mouth.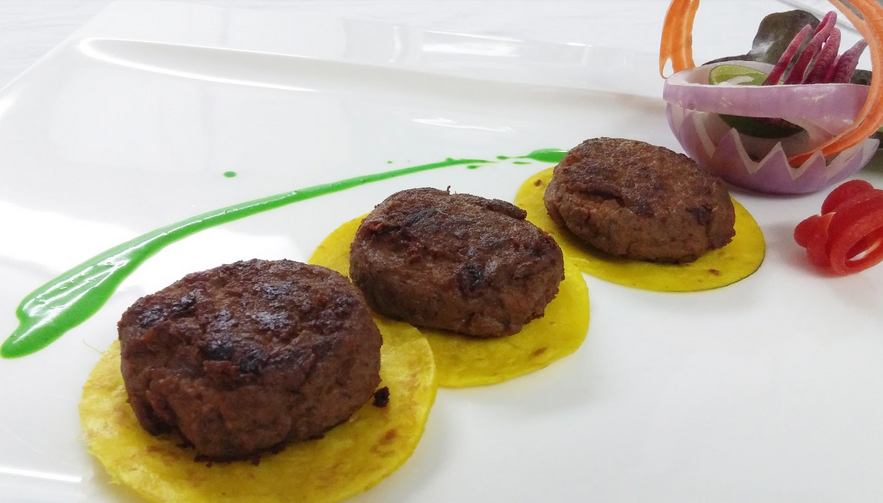 Galouti Kabab
If you haven't had enough of the kababs, you can always ask for second, third, fourth or 20th serving (if you can handle it). Although we recommend you continue on to the main course, which features a variety of lentils, curries, biryani and breads. Finally, to sweeten the deal, complete your indulgence with some Indian desserts, sure to tickle those taste buds and satisfy those cravings you've been itching to cure for days.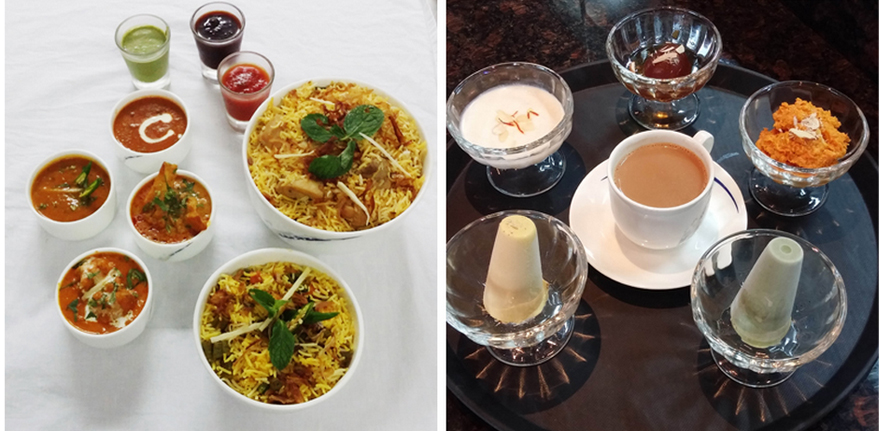 Main course & Desserts
After having a hearty meal, we sat down with their master Chef, Mahesh Thapa and restaurant manager, Pawan Bakshi to talk about what makes The Great Kabab Factory so great.
District W: Chef Mahesh, when did you realize your passion was in cooking and how did this turn into a career?
Chef Mahesh: I was influenced by my father when I was  in school. One day he took me to a hotel where he was working as a security officer. There he introduced me to the chefs and they showed me cooking techniques that I'd never seen in my life before so from that day I had decided that one day I'll become a chef. After my schooling, I did a three-year diploma course in food production from Pusa Institute in New Delhi.
District W: Mr. Pawan, How long have you been with TGKF
Pawan Bakshi: I am associated with TGKF for more than 5 years. I had started my tenure with TGKF from Dubai and had been involved in the opening of three outlets there in Dubai (Burj Dubai, Dubai Mall & Mirdiff). After Dubai I got transferred to TGKF Mumbai (Powai) and then over to Bangkok.
District W: There are lots of misconceptions about Indian food, in Thailand and around the world. How do you cope with that? How does TGKF educate or change the perception of Indian food? For example, people often think Kababs are those roadside meats on a stick or shawarma but kababs at TGKF certainly aren't those.
Pawan Bakshi: Those who know about authentic Indian food know what we are about and are loyal customers. We get a lot of repeat customers, however, we have to educate the community at large about the word 'kabab'. It's not uncommon to see new guests come in expecting one thing and then totally be blown away by our dishes. We place high emphasis on education both in the media (content, PR and social media) and in the restaurant. We talk not just about the cuisine or recipes but also place focus on history, culture, cooking techniques and fun facts
District W: How much effort and time goes into making your dishes? How do get the kababs to be so mouth-watering and melt in your mouth?
Chef Mahesh: It's depend on the dish. For soft kababs, we mix the spices according to the recipes have been handed down over the years. We usually marinate most of our kababs overnight and sometimes we do 2-3 levels of marinations. It's also important we keep the heat of tandoor and necessary time for each kabab to be perfectly cooked.
District W: What do you think makes The Great Kabab Factory, great?
Pawan Bakshi: It's a blend of things but the main focus is authenticity and personalization of our service. Although it may seem like everything comes out of the kitchen in a factory-style and we don't have an a-la carte menu, we make sure that our menu is personalized to our guest's preferences – whether that is halal meats or vegetarian/vegan/jain menu. All you have to do is give us a call in advance and we'll design the menu according to your taste and preferences. We hold ourselves accountable to authenticity and we don't cut corner where it comes to technique, ingredients and quality. The fact that most of our staff are from and trained in India also assists in maintaining that authenticity.