I'm still a novice Bangkokian expat and haven't heard of this "Coachella-esque" festival. Nor have I been to Coachella or even South by Southwest (SXSW). SXSW is an outdoor film, media, and music festival in Austin, Texas. I have had only attend one concert outdoors which was Blink 182 so when I was asked to go to Kolour, this outdoor House music festival, I had pretty neutral feelings. I thought to myself, "Should I stick to my normal weekend routine of a Saturday morning workout and food OR mix it up a bit and Coachella it up?" So I said, "YOLO, it's only 45 minutes away". Immediately, I thought of how I should do my makeup and what to wear, "I can do a smokey eye with bold red lips for a grunge-hipster look, and wear some jean shorts and a bikini as a bra, or dare I say it, as a top!". I thought up some scenarios, " It's at a wake park, it must be a massive! Imagine all the cool pictures I can take at the venue. It probably looks dope at night. There are gourmet food stands? I do love the gourmet food stands in Bangkok. Maybe they will have black pita wrapped gyros…yum gyros…". I was sold, I was going to Kolour that weekend.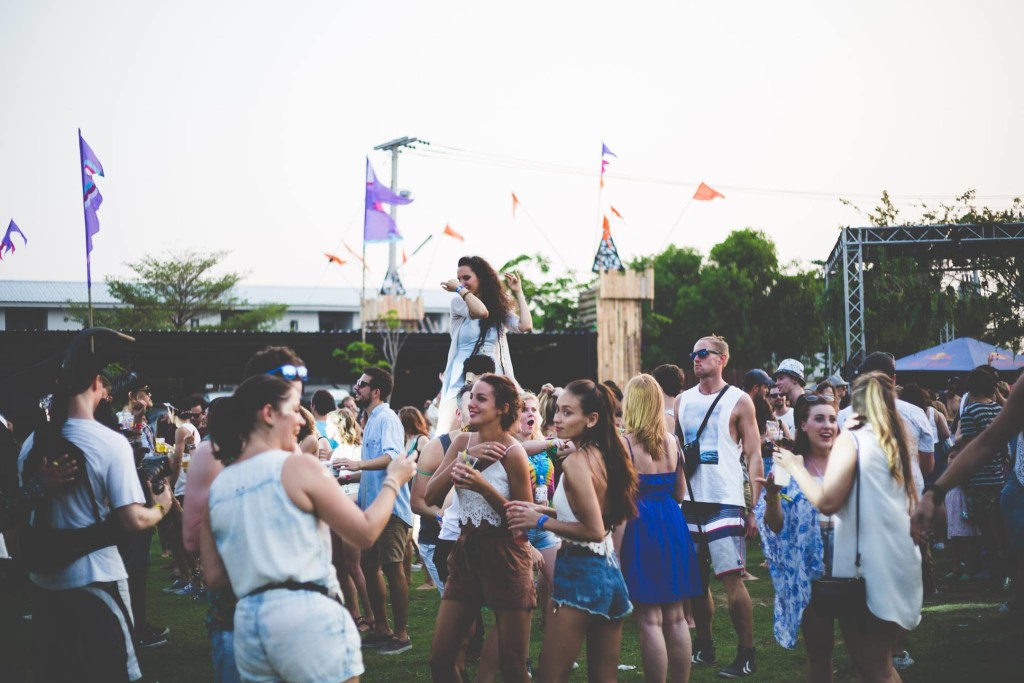 It gets pretty hot in Thailand around this time of year and the thought of spending 12 hours in Bangkok's hot and humid heat sounded miserable. So, I decided to arrive when the sun was about to set and the heat would be tolerable, while still having the daytime experience of the festival. I left for the festival with my friends around 4pm. Once you get into the town where the water park is, you turn into this long country road until you reach a small temple nearby the venue. I noticed taxis weren't passing by and the chance of an Uber being available in this town was unlikely. I shrugged this observation off and hopped onto the back of a long-bed truck with seats along the sides and handrails on the rooftop. They stuffed the shuttle with as many people as they could before driving us to the venue. It was like taking the BTS during rush hour; someone's warm body against your body getting close and personal. We drive along these man-made ponds and soon you see some people swimming, then you hear the music blasting, and next you see the strobe lights flashing in many colors. We all get off the shuttle having arrived at Kolour.
I was impressed with the security. They thoroughly check the males, grabbing them in every nook and cranny. Yet, only taking a peek into the ladies bags and giving them a quick scan with the metal detector. When it was my turn to show my ID to prove I am above the age of 20, the head security guard was telling my security guy to double-check everyone's IDs because somehow some were getting an entrance wristband without getting their IDs checked. I haven't seen anywhere in Thailand so strict on verifying someone's age for, well, anything. After my quick security check I enter Kolour and immediately notice that a good majority of the party-goers are westerners. The venue had a ranch theme going on. There was hay everywhere and haystacks for sitting. I made a quick perimeter walk and scope out what Kolour has to offer. The stage was large with some people dancing and the DJ was going at it, doin' his thang. About half the people were dancing around the stage area and the other half were mingling at the back getting drinks and food. The venue was about the size of a soccer field and the layout was great for socializing.
Next, I make my way over to the drinks stand, but was told they only accept coupons. There is a tent where you can buy coupons, it's a little annoying to have to use plastic coins instead of real cash and you can't get reimbursed for any unused coupons. Anyways, they had Singha beer and Singha light, two wine cooler flavors, buy one get one free water, and a few cocktail options. The drink selections reminded me of the cheap bars you went to during university, affordable, bottom shelf, but you keep on getting them. With a wine cooler in hand I went to the food. They had a few stands inside the venue and a few more outside the venue. The food was good, it's about the same quality you would expect at Artbox. I didn't however see a merchandise stand, but I didn't venture outside the venue either.
After getting some food and drinks, I began to fully enjoy the festivities. I made my way to the front of the stage to dance. The DJs were really into their music, dancing along, getting everyone hyped, and really enjoying themselves on stage. I didn't pay much attention to the DJs but all of their music was great. You're having so much fun dancing with your friends and the people around that you forget you're even at a concert. It honestly felt like a big-scaled party with friends. I knew a few people there, I met friends of friend, and danced along with strangers, it was all good fun. I spent most of my time dancing and feeling the vibes. I took a break every now and then to chit-chat and get a lil' tipsy. I stayed overall for about 6 or 7 hours and decided to bounce.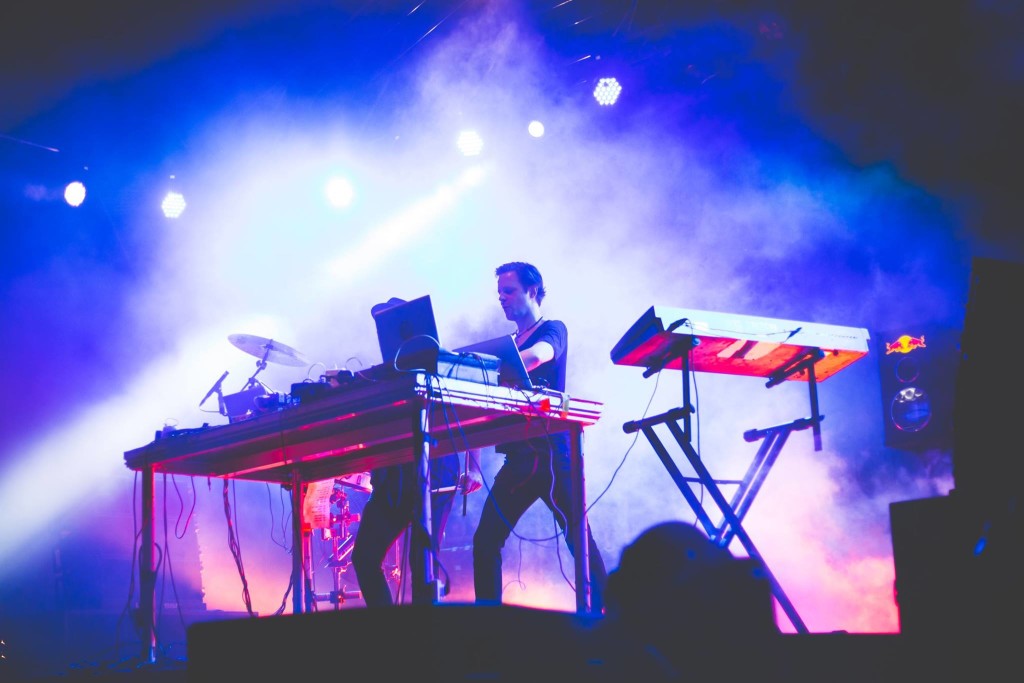 We hop on the shuttle to go back to the temple drop-off. When we get to the temple there weren't many people there and everyone was a westerner and couldn't speak Thai. Luckily (or so I thought), my friends I went to Kolour can speak Thai. There were about three taxis already there and one man who had a tablet and seemed to be in charge of the taxis. He wouldn't give anyone a ride unless they agreed to an upcharge. Everyone was annoyed with the situation because there was no other way to get back and the closest main road was about 5 km away. Finally, after arguing with the boss we got him to send someone who would accept the meter fare plus 100 baht. But hey, this wouldn't be Thailand without getting ripped off by the taxi services.
 Photo Credit: Bombay Chakrist Juejoy