cover photo: "Traffic Officer," Pyongyang, North Korea, Mark Edward Harris
They share the same city of birth: New York. They share the same city of residence: Los Angeles. They share the same profession: photographer. They share the same subject matter: people. But award-winning lensmen, Michael Grecco and Mark Edward Harris, have two very different but equally powerful approaches to documenting the worlds in which they live and work.
We asked the two Angelinos to answer the same questions to reveal their respective takes on their life and chosen profession.
District-W: Why do you do what you do?
Michael Grecco: Because I have no other choice. It's manifest destiny. I would not know what to do with myself if I were not a photographer.
Mark Edward Harris: It grew out of a love of travel and a fascination with other countries and cultures. As I child I used to help my dad document our family road trips around North America with a Bolex 8mm movie camera and a Konica 35mm still camera. I also would keep a little diary of the trips.
District-W: How do you work?
Michael: From the heart, I use my intuition as much as possible.
Mark: Roughly the same way I did on those family trips, only now it's more focused on specific stories and shot with digital cameras.
District-W: What are your backgrounds? How did you both launch your careers?
Michael: I am the descendant of Italian immigrant grandparents from New York. I started photography in summer camp, worked as a stringer for the Associated Press while in college in Boston, and then became a staff photographer at the Boston Herald before moving to Los Angeles to work for People Magazine.
Mark: After graduating from California State University, Los Angeles with a Master of Arts Degree in Pictorial/Documentary History, I did the stills for the Merv Griffin Show and various television and movie companies. When the show ended in 1986, I took off on a four-month trek across the Pacific and Southeast Asia, China and Japan to build up my travel/documentary portfolio. Eventually editorial and commercial assignments started coming in, which have taken me to ninety countries on six continents. I would love to get to Antarctica but my stomach wouldn't be able to handle the Drake Passage. I'll have to fly over it one of these days!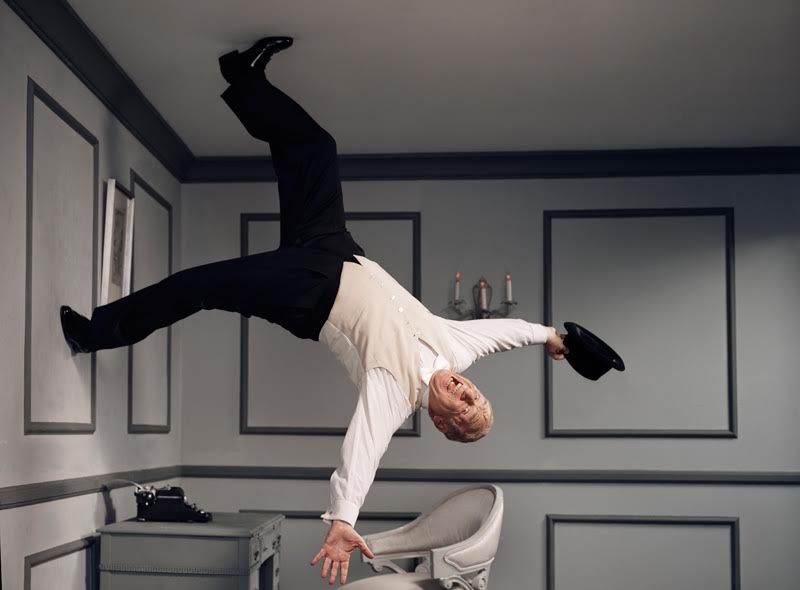 "Mel Brooks,"Culver City, California, Michael Grecco
District-W: What's integral to the work of an artist?
Michael: Making sure I tell a story intelligently in my imagery.
Mark: Michael said it perfectly.
District-W: What role does the artist have in society?
Michael: We are here to inspire.
Mark: Just like food can be simply fuel for our systems or when done well become something of great enjoyment and life affirming, artists can serve food for the soul. Life without art would make this world a very dull place.
District-W: What has been a seminal experience?
Michael: The first time I decided to be fearless and make images for myself on a magazine project. That changed my life.
Mark: The first time I got off the plane in Vietnam in 1992 and started photographing the street life there. I grew up watching the war on television, which had a major influence on me, so to actually be there was quite a powerful experience.
District-W: Explain what you do in 100 words or less.
Michael: As a portrait photographer I take the seed of an idea and the physical presence of a human being and I put them together with lighting and physical materials like clothing and locations to make an image that sets a mood and tells a story.
Mark: For my personal projects, and often for my commercial projects, I focus on documenting daily life in the U.S. and around the globe. There are many great photographers that do incredible jobs documenting war and violence, but the world is so much more well-rounded than that. I have covered riots and the aftermaths of earthquakes and tsunamis, that's part of our existence on our planet, but I think it's often over emphasized. "The good that men do is often interred with their bones," as Shakespeare wrote.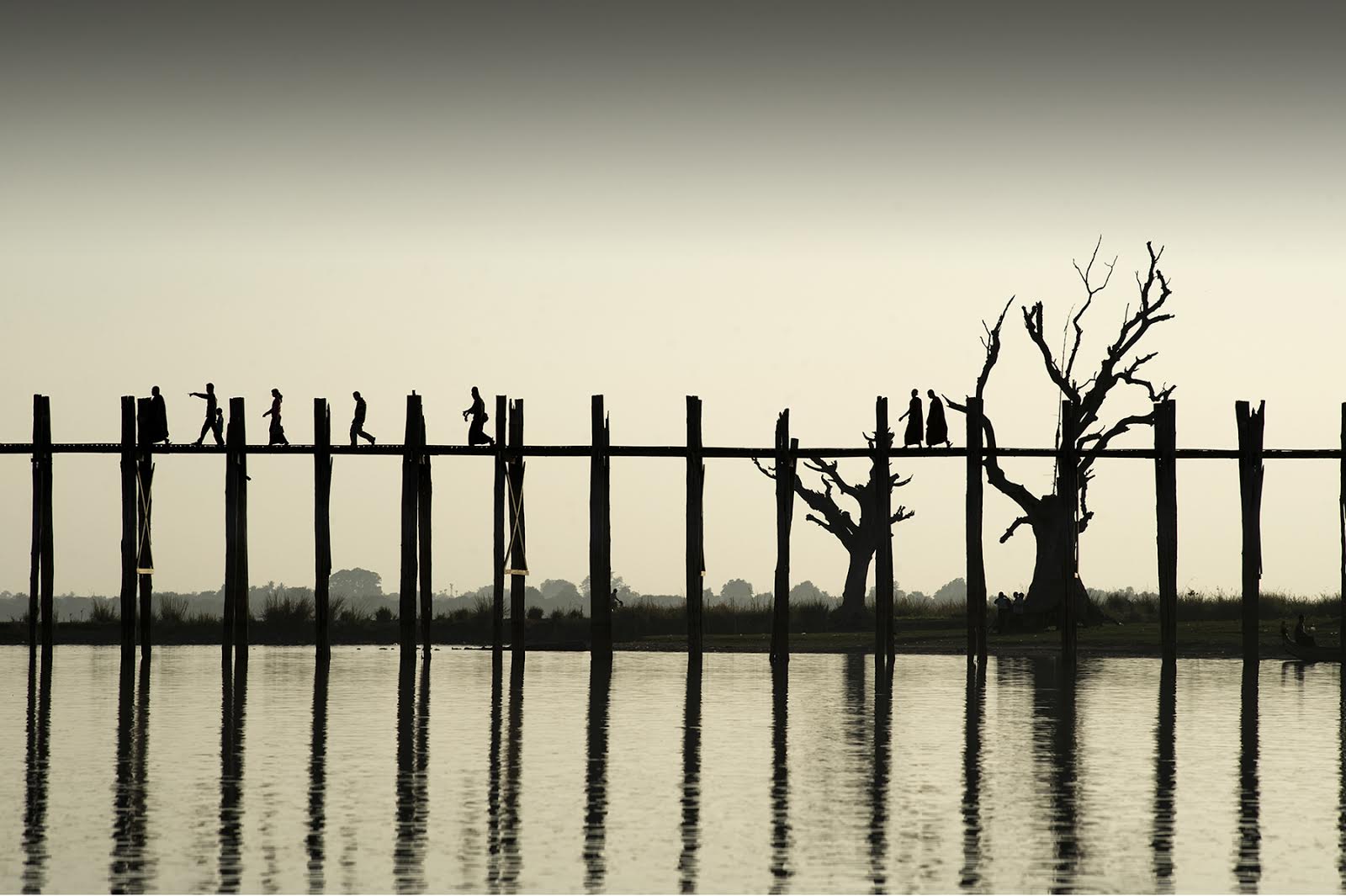 "Teak" Bridge," Mandalay, Myanmar, Mark Edward Harris
District-W: How has your practice change over time?
Michael: It's gotten freer with time. I am not so worried about failure and that has enabled me to create more freely.
Mark: My basic approach hasn't changed much other than making a move from black and white to color around 2006. I never liked the rigidity of shooting slide film and in that year I embraced digital and have never looked back. I do miss roaming the world with two camera bodies loaded with Tri-x, one with a fixed 28mm and the other with an 85mm, but digital opened up the world of color for me. Part of the move to color was a decision to document North Korea in color rather than doing a black and white interpretation of what I was seeing and experiencing there.
District-W: What art do you most identify with?
Michael: Anything that moves me, it could be a photograph, it could be a painting or a movie.
Mark: I'm very inspired by all art forms, though I do find that some contemporary work shows a lack of classical discipline. It might just be that I don't understand it.
District-W: What work do you most enjoying doing?
Michael: I love making images, whether it's for myself or for a job. The act of creating an image is wonderful and then the happiness that comes from success is even better.
Mark: I consider myself an urban explorer, so being on the streets in places that are off the beaten path such as in North Korea, Myanmar, and Iran I find quite inspiring.
District-W: What's your strongest memory of your childhood?
Michael: Looking at the great masters, Avedon, Penn, Newton and Davidson in the Time Life series of books on Photography.
Mark: I remember that amazing set of books…I still might have a couple of them. As for strong visual memories from my childhood, watching the Vietnam War on television had a very powerful affect on me though I didn't know it at the time. A more general memory is how great it was to go with my dad to LA Rams football games.
District-W: What themes do you pursue?
Michael: Darkness and mood. I love light. I am known for my lighting in my portraits and how I capture light in my landscape work…that light creates a graphic nature to an image that really gets me excited.
Mark: I have a very humanistic approach to photography. As for a theme it could be that in the big picture people are basically all the same around the world. All too often the differences are highlighted in a negative way.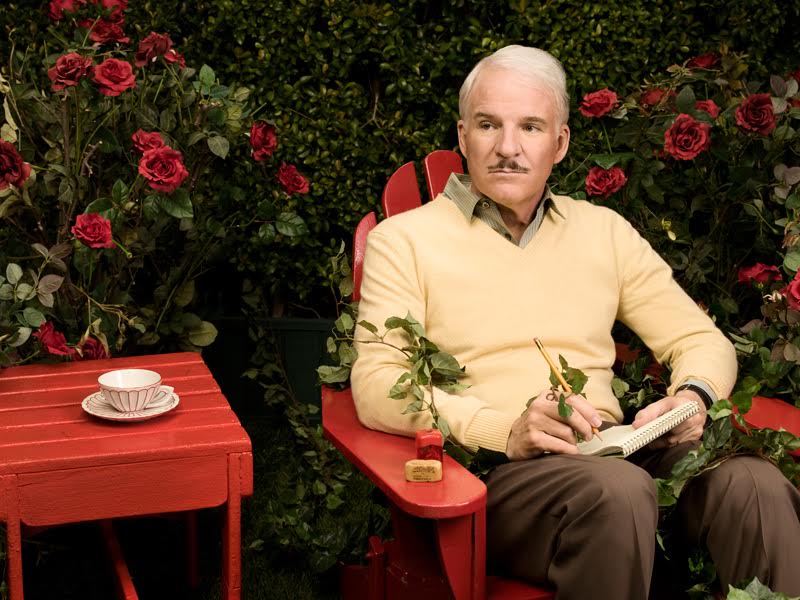 "Steve Martin,"Culver City, California, Michael Grecco
District-W: What's your scariest experience?
Michael: When the camera scratched the film on two back-to-back assignments. Most of these readers are not going to know what I am talking about here.
Mark: Being on the 12th floor of a hotel in Sendai when the largest aftershock hit Japan while I was documenting the aftermath of the massive earthquake and tsunami in the Tohoku region of the country in 2011. Being brought in for a soft interrogation in the Iranian city of Khorramshahr near the country's border with Iraq was a bit uncomfortable as well.
District-W: What's your favorite art work?
Michael: Photography by far. I love painting also. I am an avid collector but like many collectors I can't afford the paintings I love. I collect a lot of photography.
Mark: Michael, we should do a print trade! I love photography and painting but I also very much enjoy collecting books and ukiyo-e  Japanese woodblock prints.
District-W: Describe a real-life situation that inspired you?
Michael: Going to an early show at the International Center of Photography and seeing their second show on the upper Eastside in New York. It was Avedon and most of the prints were huge; I was in awe!
Mark: Doing face-to-face interviews and portraits with and of so many of the great names of 20th century photography including Alfred Eisenstaedt, Helmut Newton, Manuel Alvarez Bravo, Nick Ut and Mary Ellen Mark, who we recently lost. I've done
about a thousand interviews with other photographers over the years for books and magazines. I have the world's best teachers. I've learned something from all of them.
District-W: What's your most embarrassing moment or a moment you wish you could change?
Michael: When I told Chris Rock I liked him in all those Rush Hour movies.
Mark: Fernando Sienna was showing Cartier-Bresson my first book, Faces of the Twentieth Century: Master Photographers and Their Work, in an effort to get Henri to let me take his portrait. He was notoriously famous for not wanting his picture taken. Henri was enjoying looking at the book and asking me questions about the other photographers when an impulse overtook me. I lifted up my camera though my brain kept say, "Don't do it! Don't do it!" and snapped a picture. Henri and Fernando stormed off and I was left alone on the streets of Paris to contemplated what I can only explain as temporary insanity. Later on I joined Henri and his wife and fellow photographer Martine Franck for lunch at the Louvre; I had spent time with the both of them before in the south of France, but didn't dare ask to take a portrait. Henri explained that if he had really been mad he would have used this on me – and brandished a little knife. I really blew a potentially incredible opportunity. There's a Japanese saying, "Saru mo ki kara ochiru." Even a monkey falls from a tree.
But still…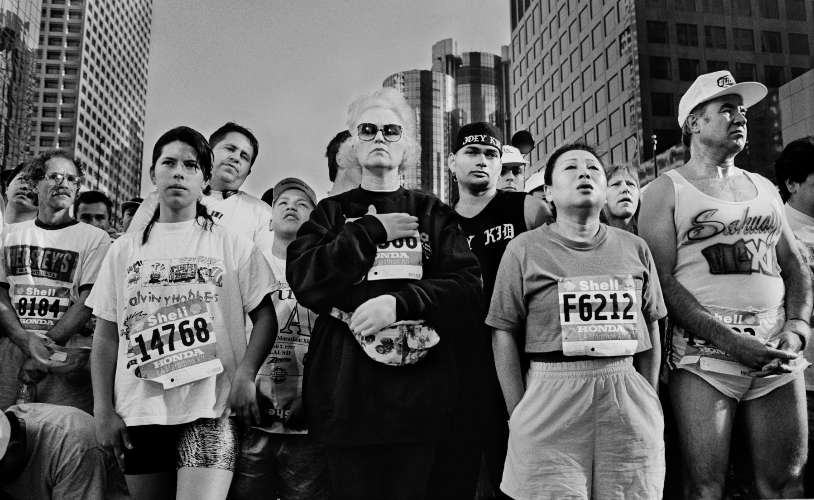 "Back of the Pack: Marathon Starting Line," Los Angeles, Mark Edward Harris
District-W: What jobs have you done other than being an artist?
Michael: I was a bus boy in a restaurant briefly, that's about it. This [photography] is all I know.
Mark: I worked at Taco Bell, Baskin Robbins, was a golf caddy, taught English at Berlitz, and took care of celebrities in the Green Room on the Merv Griffin Show before I was able to make a full-time living as a photographer and writer.
District-W: What is an artistic outlook on life?
Michael: When you realize everything you do is creative. I cook and love that; that's easy to see. But when you look at everything you do, you have a choice and those choices make up your life. When you look at it this way your life is one big art project.
Mark: That's a great way to some it up. How fortunate we are to be able to have our lives be one big art project. I say fortunate and not lucky because we have both worked so incredibly hard to get where we are and that effort never ends…which I think is a good thing.
District-W: What memorable responses have you had to your work?
Michael: I love clients when they love what I did for them. That really makes me feel great, and it's even better when it's a very renowned photo editor. My friend Jay Colton, former Deputy Picture Editor at Time Magazine told me: "Michael, I love it when you make my job hard. I threw down and you picked up and ran. I am amazed once again, you are outside your comfort zone and you excelled. You have by far my favorite take in LA and maybe my favorite take in the world. Really interesting novel approach to a difficult situation. I'm very, very happy."
When you get a note like that, from someone who's father was in the business and has spent his life as a picture editor, you feel blessed doing something you love and you're not too bad at.
Mark: Alfred Eisenstaedt called me up when he saw my portrait of him on his 95th birthday and said in his classic German-accented speech, "Unbeeeleefable!" What an honor. When he passed away, Life Magazine ran the photo as the full page final image with the caption, "This is the master's choice, Eisie's favorite photograph of himself." It was quite an honor.
District-W: What food, drink, song inspires you?
Michael: Yes, I love food, drink and song. It's much easier to say what I don't like, because
I like almost everything. I don't like chewy jellyfish, Jägermeister and modern country music.
Mark: Count me out for jellyfish and Jägermeister as well. For food, drink and song, count me in for an older Bordeaux, cold sake, Thai, Indian, Korean BBQ, K-Pop, Led Zeppelin, Bad Company.
District-W: Is the artistic life lonely? What do you do to counteract it?
Michael: I think it's very important in business to network, so I like to go to industry events. I tend to get around. It's also the great thing about being a people photographer, you are with people all the time.
Mark: The artistic life can be lonely especially because my work puts me on the road for much of the year. The upside is I have incredible friends around the world. I never feel I'm that far away from home though. I think of distance in terms of flight hours and not miles. Things seem much closer that way.
District-W: What do you like about your work?
Michael: I get to dress starlets and super models and then make great images of them.
Mark: I'm constantly learning new things and exploring the amazing world we live in. That doesn't mean I'm not aware of all the difficulties we have going on in the world…I've seen plenty of that too.
District-W: What do you dislike about the art world?
Michael: The lack of a middle class, there are either art superstars or starving artists, with little to no middle ground.
Mark: There can be a kind of elitist attitude in some circles.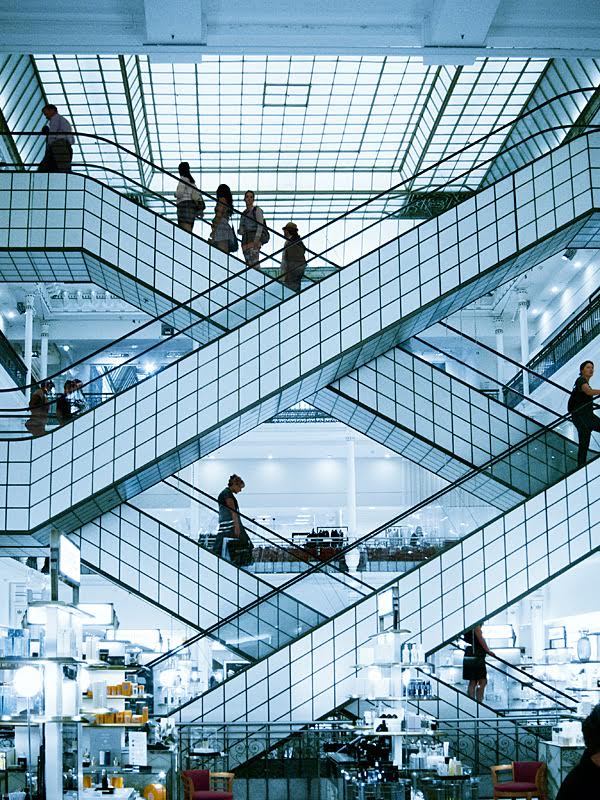 "Escalator," Paris, France, Michael Grecco
District-W: What do you dislike about your work?
Michael: I would say the same thing about the photography industry; you have to be at the top 1% to do really well. There is a general lack of respect for photographers and the world is filled with this idea that images are there for the taking. It's quite sad that something as great as the Internet has also helped destroy the photography industry.
Mark: I'm not too thrilled when the alarm goes off at 4am to catch an early morning flight for an assignment. I really love to sleep.
District-W: Should art be funded?
Michael: Yes, this goes along with this idea of respect for art and the arts. We fund farmers to make surpluses in corn and wheat, but we do not value art enough to fund it. There is something wrong with our values here in this country.
Mark: Definitely. Art can enrich everyone. I've seen it with my students in workshops. No matter what occupation they do for a living, their artistic outlets greatly enrich their lives. Not everyone can afford workshops. We can afford to take a little money away from the other government ventures and put it toward supporting the arts.
District-W: What makes you angry?
Michael: When people steal my art. There is a photographer in China who actually has my work up as his own.
Mark: People being cruel to other people or animals is completely unacceptable.
District-W: What research to you do?
Michael: It depends on what I am doing. If I'm shooting a person I find out everything I need to about that person, both for visual reference and to make small talk. If I'm referencing something artistically, I will go to the bookstore and buy illustrated books on the subject.
Mark: Great question! I do research all the time. Many of my stories are focused on aspects of history such as my recent piece for Vanity Fair on Nick Ut who took the Pulitzer-Prize winning photo of the little girl hit by napalm during the Vietnam War. I also study Korean and Japanese to help get me get a little deeper into my subjects.
District-W: Name something you love, and why.
Michael: Great photography and good food; they both feed my senses.
Mark: Same for me. I also love animals. I find them fascinating to observe.
District-W: Name something you don't love, and why.
Michael: I have to add chopped liver here to not liking chewy jellyfish. Neither make me happy.
Mark: Michael, I have to agree with you again. It's hard for me to fathom how anyone can enjoy liver. Don't they know what its function is? I try to be open-minded but I have my limits.
District-W: What is your dream project?
Michael: I always feel like I make a silk purse out of a sow's ear with the budgets I have. I would love to do an extended shoot where the creative is not hindered by a budget that is too tight. It's always about money, isn't it?
Mark: To photograph in every country on the planet over a five-year period along with a friend or an assistant. It's nice to have dinner and a glass of wine with someone after a long day on the road.
District-W: Name three artists you'd like to be compared to.
Michael: OMG, I won't compare myself to anyone. I would like to think I have made some great images but I would not compare myself to the people that inspire me.
Mark: It would be too scary to say "compared" but I greatly admire Gauguin not only for his artwork but for his incredible sense of adventure. A couple of years ago I sailed on the passenger/cargo ship Aranui from Tahiti to the Marquesas – the most remote island group on earth.  The fact that he did it in his day and age in pursuit of his art is quite impressive. But also Salgado and W. Gene Smith for their incredible photographic eyes and humanistic approach to their subject matter.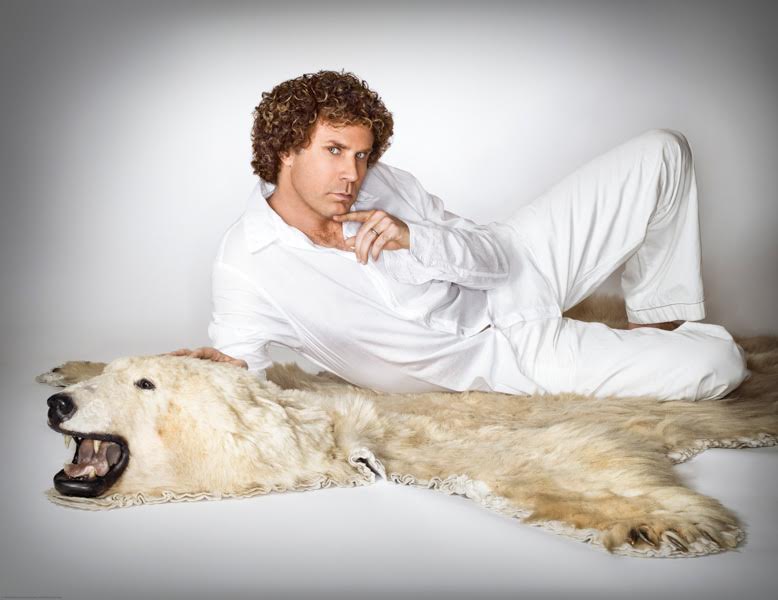 "Will Ferrell," Beverly Hills, California, Michael Grecco

District-W: Favorite or most inspirational place?
Michael: I go to France every year. I spend a week in Paris and get inspired by the food and drink. This year I have an apartment there so I can cook with my daughter who I taught to cook. We are going with my girlfriend/partner and a friend. Then I spend a week in the south of France at the Arles Photography Festival and get inspired visually. It's been a nice routine so far.
Mark: There are so many. Getting off a plane in a place I've never been to before really inspires me. That said, I really love to soak in Japanese hot springs and drink wine with friends at their old stone house in the Loire Valley.
District-W: What's the best piece of advice you've been given?
Michael: Persevere, never stop, you have to have the metal to want it badly. You have to want it badly enough to figure out a way to succeed.
Mark: I've gotten so much great advice from so many great people. My mother telling me to pick up a pen and illustrate my own photo essays with words freed me up from always depending of finding writers in order to move forward with an idea. Cartier-Bresson's advice about a wide angle lens being like garlic – "too much of it stinks" – keeps me away from going too wide unless the shot absolutely calls for it.
District-W: Professionally, what's your goal?
Michael: Shoots with bigger budgets, more access and great exposure. You know, the usual.
Mark: I love Asia and will continue to work there but I need to make the rounds in New York and Europe more often.
District-W: What couldn't you do without?
Michael: My Panasonic camera, although I just left it at a friend's house while at your party, Hossein, and I have to pick it up!
Mark: Work. I think the "R" word – retirement – would be a horrible state for me to be in.
Michael Grecco – www.michaelgrecco.com
Mark Edward Harris – www.MarkEdwardHarris.com