There's a little quirky and cute Thai restaurant deep within Thong Lor 25 and it's called Pak Boong. Pak boong is the Thai word for morning glory, the vegetable, – yes there's a vegetable called morning glory, one of the yummiest if you have never had the chance to try it. In Thai cuisine the vegetable usually features alone as a dish, cooked in oyster sauce with a few red chilies thrown in, maybe some garlic. Truly delicious and simple, something I actually have quite a lot.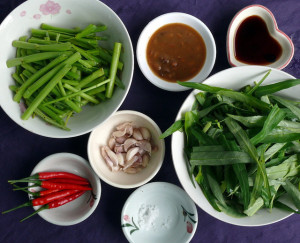 At night, it really does light up. The restaurant, not the vegetable. I've driven past there a couple of times during the day, not noticing the place. But at night, you cannot miss it. If you go by taxi, make sure you have whatever taxi app at the ready before you leave as taxis come at very irregular intervals on thong lor 25.
As I walked in, I could see the neon lights on the brick walled interior, spelling out the words 'Morning Glory' in fluorescent pink; kitchen colanders are used as lamp shades, getting creative with kitchen ware, something I have never seen before! To my right there was a large group with a table piled high with Thai food and a litre bottle of Sangsom rum half empty. People were chirping and laughing away. Small groups seemed to keep spilling into the restaurant.
We sat down and immediately were told what would be served. The beauty of eating Thai style is that everything is shared, a bit like tapas, so your palate and your plate can experience many things at once. Ideal for people who are indecisive and ideal for people who are looking to bond over food.
So the food came, almost all at once. My cousin and I were swarmed with dishes. Pan seared minced pork and mackerel (Moo Pan Gon Pla), which came in the form of meat balls, absolutely amazing because the mackerel just added the right amount of saltiness to the pork. Pork alone not so interesting unless it's bacon, but pork with mackerel? Who would have thought? Yum-di-dum.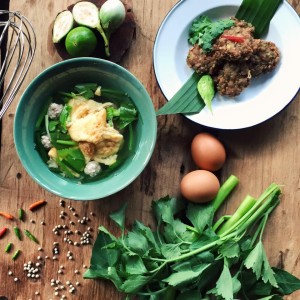 Some more obvious dishes were served too. Chicken green curry (Gaeng Kiew Wan Gai) – something that no restaurant seems to get wrong in Thailand and another one I order a lot if I'm dining indoors; and Stir fried morning glory with a twist – a dash of Ka Pi, or shrimp paste. You already know how much I like morning glory so need I say more?
Another dish I really liked and could not seem to stop piling into my mouth was the shredded mushroom in sesame batter with Nam-Jim-Gai; imagine Som Tum (unripe papaya salad) – another favourite of mine, but with mushrooms instead of the papaya. Spicy but addictive.
But the real bread winner, the dish that really rocked my taste buds but also actually blew my mind a bit, was the fried rice with… wait for it… Lychees! Holy Moly!!! This is actually a dish that will stick in my memory forever. Fried rice is fried rice, most love it, you know what it tastes like, I'm sure. Imagine that with Lychee… Kao Pad Linchee, order it if you go! The Lychees added a sweet dimension to what would otherwise be a savoury dish. Truly magnificent. And something I may seek to try at home if I'm feeling adventurous… I'll make sure I have my fire extinguisher at the ready just in case anything goes wrong!
Desert was sweet and simple, the traditional and well-known Thai banana dessert, glazed over with coconut milk and some kind of syrup. Naturally, my cousin and I were scraping our plates clean.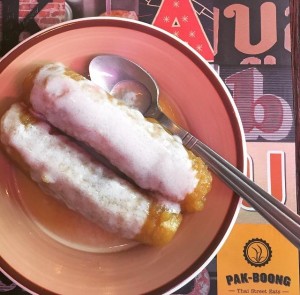 Pak Boong really does mean business when they advertise themselves as serving 'Thai Street Eats'. The food is of the type that you would find on the streets, of course the streets being the only place in Thailand where real Thai food is served; an opinion I'm sure I'm not the first to announce, and I probably will not be the last.
But Pak Boong offers something a little different too, it's not just 'Thai Street Eats'. Firstly, the restaurant is off the street. It's inside. There's air conditioning. There's also a colourful décor and funky design that makes you feel like you're in an 80's pop music video. It also offers some pretty crazy cocktails, a lot of which are Sangsom based, something you would be less likely to get on the streets because it's a cocktail, not a bucket, but also something you would not get in a more classy restaurant or bar, because sangsom is usually viewed as a 'cheap' rum.
Nonetheless, bucket or no bucket, cheap or classy, sangsom cocktails are the bomb. You only have to try Pak Boong's 'Passion for Cinnamon' cocktail, with Sangsom infused cinnamon, to find out. With so much rain at the moment, you may not want to sit on the streets of Bangkok eating; go to Pak Boong if you want to try something different!
Facebook Page: https://www.facebook.com/pakboongbkk?fref=ts