Warm, cosy, assured. These words come to mind when recalling my first So Thai Spa experience. As I lay on the massage table, being gently but effectively scrubbed with gritty gold goo, assuredness may seem like an odd description, but the quiet confidence of my therapist and the wide wooden floor boards of the large room somehow gave me a sense of old-fashioned dependability. Bangkok can be a flighty place, so this was much appreciated.
Thai Spa is situated in a quiet but accessible corner of Sukhumvit Soi 31 in an old house with a beautiful, established garden. The décor is traditional and low key, with several rooms large enough for couples or small groups of friends. On this first experience, I went with a friend and we each sampled the 60 minute body scrub and 90 minute aromatherapy massage.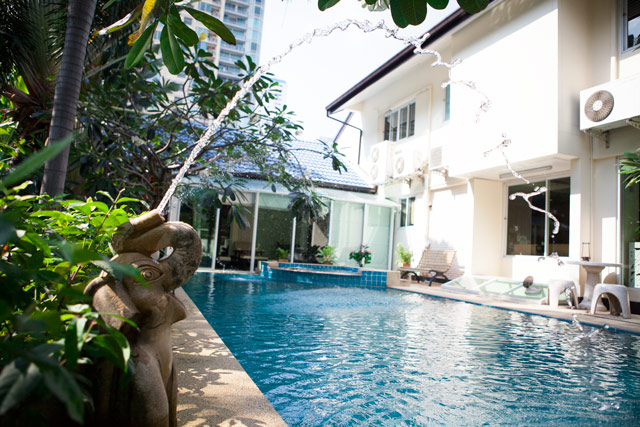 On arrival, we were led upstairs to a room the size of a studio apartment; we were given fresh cotton waffle robes, our feet were bathed, and we were asked how we wanted our massage. As we lay down on the cloth-covered tables, a flurry of sarongs and towels were laid over us and quite a bit of hushed talking between the two therapists. I cringed at the thought of their banter disrupting what I had hoped would be a serene — and quiet — experience.  (My pet peeve in Thailand is therapists who talk during the treatment, sometimes even slowing down or speeding up the massage depending on the chat, and generally treating you as though you were a bit of dough instead of a person). Luckily it seemed their exchange was merely something to do with the setting up of the treatment properly, as it stopped immediately as our treatments officially began.
After a truly excellent scrub, we were directed to the attractive little shower in our room. Tea was then served in ornate brown and gold china with delicate tamarind biscuits, and we were left in peace for a little chat amongst ourselves.
After a brief interlude, our therapists returned and commenced our massages with Jasmine oil. These were also very good: methodical, rhythmic and balanced, and finished with some traditional Thai massage on the shoulders.
My skin was extremely soft and I felt really grounded after the treatment. I was also relieved not to have had any grumpy moments after a few disappointing experiences at other spas. I really enjoyed the homely atmosphere at So Thai Spa and, if we had wanted, we could have spent time by the pool as well. The spa itself has been taken over by a young team who have invested in regular training for their staff, which shows. They decided not to mess with the décor, as customers love it in its original elegant state.
Do book in advance if you can, as the Spa gets busy, particularly on evenings and weekends. There is a special offer at the moment for 25% off if you visit before noon. Considering the wealth of excellent dining options in the area, a pre-lunch treatment with a friend or two would be a great option.
So Thai Spa
Address: 269 Sukhumvit Soi 31, Bangkok, 10110
For bookings: +662 662221 or +66 89 659 6515