Revitalized Neighborhood Welcomes New Retailers, Restaurants and a Hotel;
$1.1 Billion in Downtown Real Estate Transactions Recorded Since 2013,
The Highest Total for Any Neighborhood in Boston
NEW YORK – Millennium Partners, in conjunction with Suffolk Construction Company, is pleased to announce that the Topping Off Ceremony for Millennium Tower Boston was held on Thursday, September 17, an unprecedented two years to the day since construction on the landmark building began.  Located in the heart of Downtown Boston at the site of the former Filene's Department Store, the 60-story, $700 million Millennium Tower Boston is the city's preeminent urban luxury residential offering.
Millennium Tower Boston, rising a record 685 feet, will transform the city's skyline.  Showcasing a bold new way of living, merging world-class contemporary design with unsurpassed amenities, the highest level of service and exclusive Club offerings, Millennium Tower Boston will house 442 luxury residences affording panoramic, previously unknown views.  The building is currently more than 90 percent sold and residential move-ins are set to begin in summer 2016.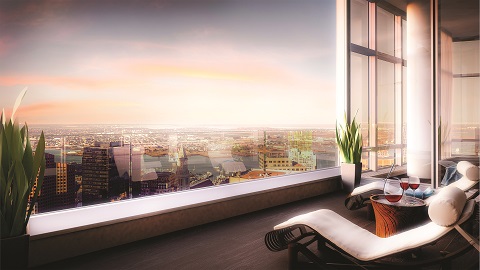 The Topping Off of Millennium Tower Boston marks a milestone accomplishment in the evolution of Downtown Boston into a thriving 24/7 city center.  Located east of Boston Common and west of the Financial District, it's one of Boston's oldest districts, but with the addition of Millennium Tower Boston, it's primed to evolve into a lively residential neighborhood.
"We've been extremely confident in the potential of this historic neighborhood since our first investments more than 15 years ago," said Christopher Jeffries, founding partner of Millennium Partners.  "We are honored to have played a key role in restoring Downtown Boston to a vibrant, preeminent and prosperous city center in which all of Boston can take great pride."
In recent years, Downtown Boston has undergone an epochal transformation spearheaded by Millennium Place, a luxury residential project completed in 2013 and one of the fastest-selling real estate offerings in the city's history, and now brought fully to fruition by the rise of Millennium Tower Boston and the restoration of the adjacent Burnham Building.  The onetime epicenter of Boston's social, cultural and commercial history, Downtown Boston has more recently enjoyed popularity as a hot spot for shopping.  For decades, retailers such as Filene's, Jordan Marsh, Macy's, Gilcrest, and R.H. White department store served throngs of eager shoppers and created a bustling downtown district known for its festive holiday decorations.  But in the postwar era of the 1950s and '60s, the downtown crowds began to depart for the suburbs and their new shopping malls, and the area struggled to find its footing.  The famed Filene's Department store, housed within the historic Burnham Building, closed years ago, and a previous developer gutted the space but didn't finish the job – leaving a figurative and literal hole in the heart of the neighborhood.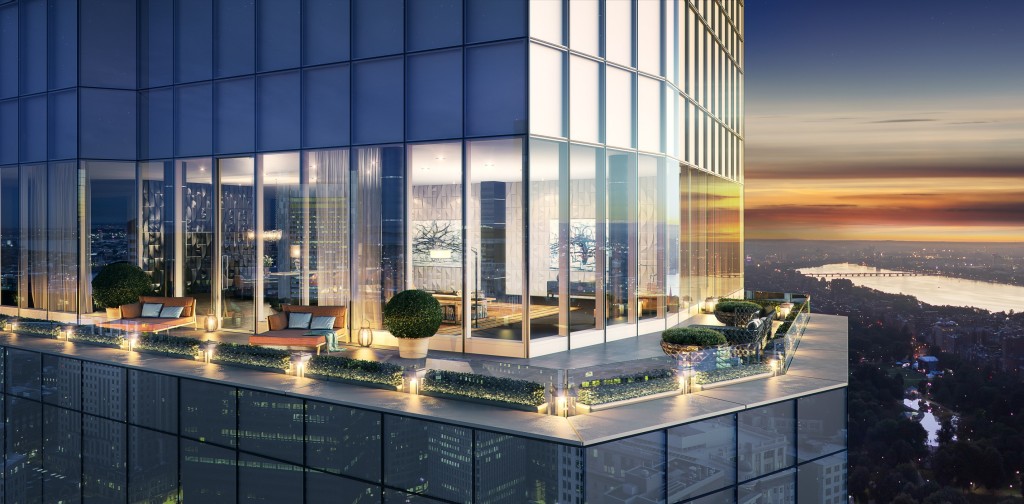 With deep ties to the area, including the development of the award-winning Ritz-Carlton Hotel and Towers and Millennium Place, Millennium Partners acquired the development rights and set its sights on creating a transformative project that would inject life into the once-proud neighborhood.  The two-part project includes the renovation of the historic Burnham Building, a designated Boston Landmark, along with the creation of the adjacent Millennium Tower Boston, the city's most luxurious residential offering.
Millennium Partners' restoration of the Burnham Building – overseen by Handel Architects – captures the site's rich history.  Designed by Daniel H. Burnham, architect of New York's Flatiron Building, Burnham was the leading retail architect of his time and this building, completed in 1912, was his only commercial project in New England.  The modern restoration of the building includes new systems and technologies constructed within the historic shell and steel structure, including high ceilings, regular and sparse column spacing, large "Chicago-type" display windows for branding opportunities, and a prominent lobby entrance near the corner of Hawley and Summer streets.
The restored Burnham Building houses key tenants pivotal to the revitalization of the neighborhood – namely Downtown Boston's first grocery store and a new clothing retailer.  Roche Brothers, a high-quality and locally-owned grocery store, recently opened a flagship, 25,000-square-foot supermarket, and Primark, one of Europe's largest clothing retailers offering quality, up-to-the-minute fashion at value prices, opened its first U.S. location on September 10.
Downtown Boston will also showcase new culinary choices as well as a new hotel.  Michelin-starred and James Beard Award-winning celebrity chef Michael Mina recently announced his plans for Mina at the Tower, a signature dining experience for building residents, in addition to the forthcoming Pabu, a Japanese izakaya, to be located on the first and second floors of Millennium Tower Boston.  Nearby, PAUL, a French bakery and patisserie with locations throughout Europe, and Serafina, the popular New York institution featuring authentic Northern Italian cuisine, both recently opened, adding further dimension to the rebounding neighborhood.  This fall will also see the opening of The Godfrey Hotel, a 242-room luxury boutique hotel housed in the historic Amory and Black buildings located at 505 Washington Street, within blocks of Millennium Tower Boston and the Boston Common.
Millennium Tower Boston is the product of Millennium Partners' two decades of residential experience.  After revolutionizing five-star service for luxury residences with acclaimed hotel brands Ritz-Carlton and Four Seasons, Millennium Partners applied its core values and key learnings to the creation of residential-only buildings.  Millennium Place in Boston and Millennium Tower San Francisco have since achieved record-breaking sales and set the bar for upscale residences in their respective cities.  From an expertly trained service staff and eye-catching architecture to The Club's one-of-a-kind amenities and signature La Vie® program, Millennium Partners has mastered the art of urban luxury living with its newest residential-only building, Millennium Tower Boston.
Millennium Tower Boston is located at 1 Franklin Street in Boston.  The sales center is located 40 Franklin Street.  Residential move-ins will commence in summer 2016.  For more information, please visitwww.millenniumtowerboston.com.
About Millennium Partners
Founded nearly 25 years ago, New York-based Millennium Partners is an internationally recognized residential developer of luxury mixed-use properties, responsible for dramatic showcase properties in some of the nation's most dynamic urban locations.  Millennium Partners has created an unparalleled portfolio of 28 properties that bring together luxury condominiums, state-of-the-art entertainment complexes, world-class spa and fitness facilities, Class-A office space, and five-star hotel brands, including The Ritz-Carlton Hotel Company LLC and Four Seasons Hotels and Resorts.  For more information, please visit http://millenniumptrs.com/.